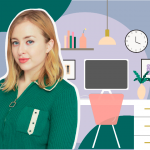 One of the most consistent pieces of advice we hear from the women we feature? Always keep learning. Whether it's learning on the job, through mentors, or by seeking out courses that can help you level-up in your career, we've gleaned that taking a proactive approach to your professional growth is key (a recent study even revealed that learning can often feel like a form of professional self-care). Not quite sure where to start? Together with LinkedIn Learning (the on-the-go-commute-free, flexible way to take professional courses), and in honor of National Learning Month this October, we're asking some of the accomplished women we admire what skills they lean on for career success. This week, meet Ali Kriegsman, the 28-year-old co-founder and COO of Bulletin, a new retail concept supporting small female-founded businesses. Read on for what skills Ali uses (PS: we're linking some corresponding courses below, to get you started!), then jump over to LinkedIn Learning to start expanding your resume.
Can you tell us about your current role as Co-Founder of Bulletin? What are your responsibilities? 
As Co-Founder and COO of Bulletin, my responsibilities have shifted a bunch over the past few years, but recently, I've taken on a role that is focused on growth and building out our new wholesale marketplace. After helping hundreds of brands access affordable physical retail in our own stores for about two years, we decided to find a way to help scale that mission and get our network of brands into more retail stores nationwide. It is my responsibility to make sure we've built a viable, competitive product that inspires brands to join our platform and sell their inventory to our network of retailers, as well as a platform that offers retailers real value and access to coveted brands that they can't easily find or buy from otherwise. 
What specific skills does your job require? 
My job requires a lot of hard and soft skills. To be in such a customer-facing role, my role requires patience, attentive listening, curiosity and maybe a hint of charm (if I do say so myself). On the product development side, that innate curiosity is still really important, but you also need to be comfortable ruthlessly prioritizing different features your customers may want. You have to truly listen to your customers, but also find patterns in their feedback and requests, so you don't get overwhelmed. My role requires a lot of learning and research. I've had to do a lot of independent work and reading to understand wholesale and retail from the inside out. My job also requires true sales and business development skills: knowing or understanding where to mine revenue, how to pitch a product or service, how and when to close in on a sale, copywriting and positioning that explains your business and product in the best light. Lastly, because I straddle so many different divisions, I have to be an incredible multitasker. I have extremely detailed, hyper-organized folders in my brain – I swear!
Did you take classes that helped you build Bulletin?
I took consumer psychology and marketing classes in college, but that's about it. I've also worked in sales before and have received a fair amount of b2b and consumer sales training in other jobs. I've taken one Excel class post-college. I dutifully read all of the relevant retail and tech publications and articles that cross my desk and have taken dozens upon dozens of retail and wholesale experts to lunch or coffee. I have learned the most from the women who have immersed themselves in this industry for years.
What is the most important thing you've learned from being in your role?
I deal with a lot of imposter syndrome and tend to catastrophize really easily when things go wrong. Alana [my co-founder] is such a rock for me in those moments, and she always feels like my #1 champion screaming, "You can do it!" and constantly motivating me to be easier on myself and focus on my wins. I have really learned about the power of a positive mindset and have tried to internalize that failure, or falling short, can also offer a new challenge or opportunity. I think the most, MOST important thing I have learned is the power of teamwork and community. I am in awe of my team every single day and can easily tear up over the crazy feats we have accomplished together. I feel the same way about the brands that entrust Bulletin with their wholesale business or let us showcase their incredible products in our Nolita store. 
What training did you receive when you started at your current company? What was helpful? What would you change?
Alana and I did a tech incubator program back in 2016 and a more robust version of the same program again in 2017. That program focused on how to build and grow a massive technology company, but the underlying training was all about customer-centricity and deferring to your users. It was, frankly, the most helpful training or education I received prior to or while building Bulletin. I think a lot of people make the mistake of building a business they want to see in the world, or theorizing what business models or pricing structures or incentives would really resonate with their customer base. The program taught us that there's literally no need to do any guesswork. In fact, guessing can cost you money. We focused instead on user and customer interviews, watching how they reacted to or engaged with our service or website, polling our users, building a community of power users to consistently give feedback… I think building a user-centric organization is the key to any company's success, no matter what you are selling. 
What would you say has made you most successful at your job? 
I think my resilience has been the key to my success at Bulletin. I see Bulletin as a marriage between myself and Alana, and as a serious commitment and promise I've made to our team, our brands, and our investors. I simply don't give up, and I won't give up. We've made bad decisions, we've made brilliant decisions, we've failed at times, and we've also succeeded at points along the way. I take my promises and my commitments seriously, and that means you have to keep listening, fine-tuning, fixing and executing no matter what comes your way. 
What advice has stuck with you as you've gone through your career?
Someone once told me I'd probably work harder and be happier if I was doing work I really cared about, or were at least working in an industry that let me be creative. That advice has always stuck with me. I still think, to this day, that people do their best work when they are creatively, intellectually and emotionally fulfilled. 
For our readers who are hoping to build their dream careers, what is one thing you want them to know? 
I spent all of college feeling so lost, and my first few years post-graduation were not any better. The one thing I always made sure to do was give 100%, no matter what. Even if I was miserable, even if the work I was doing wasn't challenging, even if the job I was doing didn't squarely fit into the "idea" of the job I thought I'd have or wanted to have, I tried to perform like an Olympic athlete every day. You are going to have to pay your dues. You are going to be miserable for period of your career. You are going to feel lost. You are going to break down. Giving your all helps you build a reputation as someone who is committed, reliable, hardworking and tenacious. Even if you aren't in your dream career right now, those qualities are coveted and universal in any job. Don't wait for your dream job to perform your best. Do it now. Do it tomorrow. Do it when you think it doesn't count.