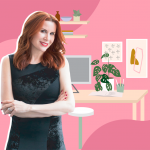 Over the last month, we've pulled back the "career curtain" to find out exactly how some of the industry women we admire landed their coveted roles—and the skills that helped them get there, in partnership with LinkedIn Learning. For our final "She's Got Skills" feature, we're excited to introduce you to Aliza Licht–a founder, author, and brand-builder. This woman is the definition of using a job as a launchpad for a personal brand, and paved the way for modern-day overachievers everywhere by turning her position in PR at DKNY into a full-fledged marketing platform via @DKNYPRGIRL on Twitter, back in 2015. The handle amassed over 500,000 dedicated followers thanks to her authentic voice and behind-the-scenes content. After becoming a household name in the fashion world, Aliza then shared her PR skills with the world, via her successful book Leave Your Mark, and now also provides "freshly brewed career advice" through her podcast. Below, this branding powerhouse shares how she built a name for herself in the fashion world, and lists the skills (which have corresponding LinkedIn Learning courses) that she used (and you can learn too!) to "leave her mark."   
Can you tell us about your current role as Founder & President of LEAVE YOUR MARK? What are your responsibilities? 
LEAVE YOUR MARK is a consultancy that specializes in brand storytelling across all consumer touchpoints. That means I work on anything from overall brand positioning and strategy to content ideation, production, and execution for e-commerce and social media. I'm a one-woman show, and I jokingly call myself a "rent a CMO" because I'm generally hired to pop into existing teams and lead them on a part-time basis. The bulk of my experience, however, is in communications, so I can also produce events, put influencer or celebrity partnerships together, or pitch the media. 
What specific skills does your job require? 
A large network of people to tap into and collaborate with, strong communication skills, creativity, strategy, and the ability to make decisions quickly.
Did you take any classes that helped you create LEAVE YOUR MARK? If not, do you wish you did? 
When I took on digital in 2009 in my previous role as SVP of Global Communications at DKNY, there were no classes or precedence for what should be done. I had no idea what I was doing when I created the social media personality, DKNY PR GIRL, but I did have in-depth knowledge of what the brand should sound like, and an innate curiosity for what this social world entailed. I think that anyone can teach themselves anything if they are curious and open to learning.
What is the most important thing you've learned from being in your role at LEAVE YOUR MARK?
When I left DKNY at the end of 2015, I launched LEAVE YOUR MARK. I consulted for ten months and hated it. I actually wrote about my experience for Forbes and chalked it up to the fact that not everyone is meant to be an entrepreneur. So, I went back in-house and joined Alice + Olivia for the next two and a half years. When I left in March 2019, I picked up my consulting business again, and this time it felt right. As they say, timing is everything. Being on my own is empowering and rewarding. I can say no or yes to anything. The most important thing I learned long ago and have been reminded of now is how important your reputation is. Will people respond to your emails once you've left a prestigious role? That is the ultimate test of your status in an industry. 
What training did you receive when you started your company? 
I have over 20 years of experience in marketing and communications which has prepared me for this role. I grew up in fashion in its heyday, at a time when fashion editors were gods. I lived The Devil Wears Prada and I loved every minute of it.
What would you say has made you most successful at your job? 
I am a sincere person, and I value my friends and network. I have always cared about my reputation and feel proud of the one I have established. I mentor thousands of people around the world through my book, LEAVE YOUR MARK, and now with the LEAVE YOUR MARK podcast, and I genuinely want to help. Opening doors for others makes you a better person. I have had so many doors opened for me, and I want to continue to pay that forward.
What advice has stuck with you as you've gone through your career?
My Grandma Hilda once said to me, "Show me your friends and I will tell you who you are." That sentiment is especially poignant in a communications role.
For our readers who are hoping to build their dream careers, what is one thing you want them to know?
No one is going to hand you anything. You have to work for it and seize an opportunity when you see it. Don't wait for things to happen, though. Make them happen yourself. If you have a talent, show it. Get people's attention. If you're passionate about what you want to do, you can create your luck. But remember that if you want people to support you, you have to return the favor. Your reputation doesn't follow you everywhere; it gets there before you do.