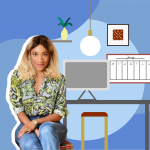 This month, we're teaming up with LinkedIn Learning to pull back the "career curtain" and find out exactly how some of the industry women we admire landed their coveted roles—and the skills that helped them get there. This week, we'd like to introduce you to Danielle Prescod, a bright light on our Instagram feeds (seriously, check her out) and the Style Director at BET. Below, this seasoned editor breaks down her daily responsibilities and the skills she relies on to be successful.
Can you tell us about your current role as Style Director at BET? What are your responsibilities? 
I oversee fashion, beauty, and lifestyle content for our digital properties. I try to creatively think of ways to inform and entertain our audience on the aforementioned subjects while managing both editorial and video content. I have a strong team of four and every day we are both reporting on and discovering exciting ways to story-tell. 
What specific skills does your job require? 
I would say my job requires me to be highly organized, intuitive, and creative. 
What is the most important thing you've learned throughout your career?
I think I have actually learned to be balanced now more than ever. I spent a lot of my early career doing nothing but working, and I probably burned out 3 times before I was 30. I am a much more conscious worker now. I also do not attach my self-worth to my job. I do not sacrifice my mental health or wellbeing for work anymore, and I never will. 
What would you say has made you most successful at your job? 
I think that being observant and being quick are both invaluable qualities when it comes to producing content. It comes very naturally to me and the longer I do it, the more I realize how rare it is.
What advice has stuck with you as you've gone through your career?
When I was first starting out, I had a boss that told me that I needed to take every meeting and take every opportunity to get to know people in our industry, and I took that super seriously. I would schedule breakfast meetings and coffees constantly. I was always showing up at events. I would have dinners or drinks every single night. It was truly insane. 
I have stopped doing that now, and I wish that I wouldn't have taken that advice so literally. Now I prioritize meaningful connections and interactions. I make sure to do things that I actually want to do because being driven by want vs. obligation ends up making a huge difference in the quality of work that you are able to produce as a result. 
For our readers who are hoping to build their dream careers, what is one thing you want them to know? 
Your job is not who you are, it is what you do. Do not conflate the two and lose yourself. I really want to caution people to be careful in making their jobs everything that they are. Instead, focus on having a healthy relationship to your work: do the absolute best you can, and be proud of the work you do, but if it is not a perfect situation, find something outside of work that you can be hugely passionate and excited about and use your paycheck to fund that. Don't be in a rush just because there is a Forbes list you aren't on. It will all come together in the end.