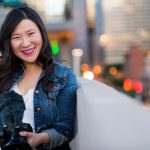 Sorry Andy Sachs, but Juliana Broste has the real job a million girls would kill for. She's one of Bumble's inaugural Global Connector Bees, a new position "navigating the nuances of dating, friend-finding, and networking across the world," all while posting her adventures online for Bumble's captive audience. Chosen from thousands of women, Juliana hails from Colorado, where she works as a video journalist and producer. ("I'm a one-woman band," she laughs.) Now Juliana begins her Bumble journey with a work trip to Singapore (!) where Bumble Bizz officially launches this week. Here's how Juliana's big job took flight.
What was your first job?
While I was an undergrad at CU Boulder, I was an intern at CBS 4 in Denver, so from the very beginning of my career, I always had this experience of understanding how a newsroom worked… I learned [there] that I loved telling stories, but I didn't love the news—politics, weather, it just wasn't my interest. I wanted a more creative way of storytelling.
What did you study in school?
I studied advertising in college. I loved marketing and ad campaigns. Then the first time I went abroad, which was to study in Australia, I got bit by the travel bug. What's funny is, I didn't even want to go at first. My friends would study abroad, and I'd be like, "Why are you even leaving?! This place is great!" But once I did it, I knew travel had to be a part of my career.
Can you tell us how you got your current job?
I saw the job posting on Bumble, and it literally said "dream job." At the time, I was thinking a lot about my next steps. I was traveling around the world, creating all my own content, editing my own videos, and I thought, "What do I want my next thing to be? What am I doing?" I think it was fate, because I remember seeing the job posting just 24 hours before the deadline!
What was the application process like?
I made a video of my travels, and I shared something kind of personal. I said, "I'm not normally a 'dating app person.' I find it challenging to put myself out there." Honestly, I was too shy… But being a small business owner, I'm a one-woman show. I shoot footage, produce, host… I love it, but look, it's consuming. The truth is, I forget to go on dates! Sometimes I even forget to socialize… so I wanted to push myself. I wanted to put myself out there and really connect to people.
What's been surprising about this role? Has it already connected you to more people?
It has! Something I've realized is that when you meet someone amazing, everything changes. I get more inspiration and ideas; everything starts moving faster… Once I got to Bumble HQ in Austin, I started making friends through Bumble BFF and going on dates. One of the first guys I met was [into travel] too… I actually ended up calling him on the phone through the app! That was nice, because I hadn't met him yet, and I could still talk to him without giving him my number. But once I heard his voice, I was like, "Ok, this person is awesome." It gave me real confidence, and I asked him to go out. He said he was busy, and I was like, "Ok, he's not into this…" But he was! A little while later, he brought me to a famous BBQ place, which was really thoughtful since I'm not from Texas, and BBQ is such a thing here.
Did you end up filming your date?
I did… but I was really scared. I didn't want to ask him to be in the video! I just wanted to meet him. But he knew I was a videographer, and after I started filming the BBQ coming out–just the food!–he said, "It's cool; you can film me!" I showed him tricks on my camera, let him take his own footage… we totally bonded. It was a great way to take small steps to meet someone.
At what point in your career did you start to think you had it "all figured out"?
My advice to people who want a career in video journalism or travel journalism is actually to never feel that comfortable! Don't get over your head, but always feel a little more "out there" than what's easy for you. And don't pretend you know it all. I still go to a lot of conferences, both to network and to learn what other people are doing.
Are you still seeing the guy from the BBQ date? We have to ask…
He's actually in Thailand! But he's using the camera equipment I recommended to film his trip. That's one thing about people who love to travel; we're always on the go… Me included, I mean, I'm going to Singapore!