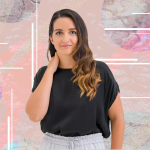 Function over fashion? Zana Nanic believes you can (and should) have both. While studying for her MBA, Zana was in search of the perfect business outfit and couldn't find anything that worked for her potential workplace. Equipped with a keen eye for design and the power of enclothed cognition (aka the science behind the way your clothes make you feel), Zana founded Reclaim, a one-stop-shop for elevated workwear. What exactly does a day in the life of a CEO and Creative Director look like? We asked her.
What does your job entail?
I started Reclaim to offer top quality and accessible business-casual clothes. As the CEO and creative director of an early stage company, my roles span from managing the relationship with investors to picking materials for garments.
How did you decide on this career path? 
Early in my career, I moved from the corporate world to tech and traded pencil skirts for jeans. But in the tech "uniform," I felt sloppy, young and self-conscious… I really wanted to hack the hoodie and wear something beautiful, yet functional. I started designing clothes and before I knew it, friends were coming up to me and asking where they could buy them… so Reclaim was born.
At 9 A.M. I am… Checking my emails and reviewing the performance of the previous day. I check ad performance, sales dashboards, and social media engagement. My morning goal is to get my inbox to 0.
At 11 A.M. I am… Doing a ritual: after doing a lot of routine work, I go to yoga to reset my day and get into a more creative mindset. There is a studio right next to the office, so it's super convenient.
At 1 P.M. I am… Using lunch as an opportunity to network and connect with people. If I'm not having lunch with another person in retail, I have a very quick lunch. (I'm addicted to Daily Harvest smoothies.)
At 3 P.M. I am… Focusing on the more creative side of the job and getting in the flow. I prefer to do this in the afternoon rather than in the morning, because I don't want interruptions. Right now, I'm designing the Spring collection, so I spend a lot of time sketching and building inspiration boards.
At 5 P.M. I am… Still immersed in the flow. I'm usually designing until the evening.
How does a workday end for you?
In an early stage company, the to-do list is never ending, so it's important for me to set some boundaries and hard rules to avoid burning out. I end my day reviewing my daily to-do list, and planning what needs to be done next.
What do you do after work?
I pick up some fresh ingredients, put on some music, and cook dinner. I am Italian, and I love to cook.
What time do you go to bed?
I am a night owl. I tend to stay awake past midnight.
What's one piece of advice you have for someone who wants to do what you do?
Just start. I spent years planning to start my own company and getting ready for it while doing other things (consulting, working at a startup, getting an MBA…). You end up taking a long detour, and most often, you still don't feel ready.