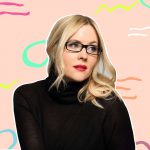 I believe it's important to surround yourself with beautiful things," says Natalie Mackey. The CEO and founder of Winky Lux is devoted to (and kind of obsessed with) making makeup that looks a little like magic. But it's not just for fun: Natalie cites research from Ingrid Lee, a Princeton researcher who found small, happy things scattered throughout someone's day can lead to a steadier state of well-being. "I really take that to heart," she says… but she somehow still wakes up at 6:30 A.M. Here's how her morning unfolds after that.
6:30 A.M. I'm an early riser. I have a phone stand that lives 4 feet from my bed. I was so bad about reading my phone at night (and in the morning), so I made a big effort to remove it from my bed.
6:45 A.M. I brush my teeth, then I walk Pippy Lou (my dog)… though she's not a big walker, so we only go to the end of the block. But it forces me to wake up and start my day. Sometimes my husband will do that if he's feeling generous!
7:00 A.M. If I work out, I'll do a Peloton routine. What I like about the Peloton is that it's a no-excuses thing: It's wildly convenient, it's good to get my heart pumping, and I'm a big fan of the 20-minute workout. Life is so busy; I don't have time for a full 45.
7:30 A.M. In the morning, I wash with Cetaphil; I haven't been able to find anything better. I'll use Kate Somerville's exfoliator three times a week. I use a little bit of glycolic acid serum and a dream jelly moisturizer. It helps with skin congestion (i.e. clogged pores) around my nose and chin.
8:00 A.M. I usually take Via or Uber because I take Pippy Lou into the office… I almost do my makeup on my commute in an Uber Pool. My office is right over the bridge, so sometimes I luck out and no one else gets picked up… but other times New Yorkers are just watching me do my makeup in a car. I wear a pretty edited makeup look… I put on a tinted moisturizer, and use my eyebrow pencil, and lately I've been testing a new product called "Cotton Candy Eyeshadow" that won't be out till March.
8:15 A.M. I am a huge fan of bodega coffee in New York. There's obviously amazing coffee in the city, but I get coffee at my corner bodega.
8:30 A.M. This is when I try to get in the office and eat breakfast. I usually have yogurt with avocado and mango, kinda weird but so good. I know some people put salt and pepper on their mango, but I keep it plain. After I eat, I'll meet with my business partner, Nate Newman, to sync up. We run two very different teams, so that's our moment to connect and say what's going on with our teams, and plan what we want to achieve for the day.
9:00 A.M. This is when I officially start my day. One of the pieces of advice I got and have found really helpful is to start with the hardest thing you have to do, and work from there. So I try to stick to that, so my brain will be fresh… I feel like by the end of the day, there's no creativity left in my brain, so I like to get it done early.