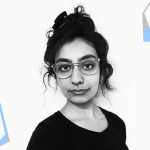 Imagine you're in your final year at Columbia Medical School. You've started going on hospital rotations and learning from the best doctors in the world. You're working hard and building mentorships with scientists you admire. And then… everything stops. 

That's what happened to Vibhu Krishna, who was living the Grey's Anatomy life just a month ago. But when COVID-19 put her doctor dreams on pause, Vibhu started mobilizing with the rest of Columbia's graduate health students from her couch. "We knew by we had to volunteer in any way possible, even if we can't finish our programs," she says. Now Vibhu spends her days working with PPE 2 NYC, which gets medical and protective equipment to New York's hospitals. At night, she runs Faces of the Frontline, a platform that amplifies the experiences of healthcare workers fighting COVID-19. Here's how she's doing it.
How did Faces of the Frontline start?
Before I began medical school, I worked in digital marketing, specifically in healthcare marketing. I was an art major. I believe telling stories can help keep us well. And as I was volunteering with all these on-the-ground initiatives, I realized there's a real dearth of storytelling around COVID-19. There's misinformation. There's panic. There's very real issues of burnout and scarcity. I was like, "Where is the humanity in this? Can we find it, and highlight it, to bring people together?"
How is that happening?
We've created a platform where anyone can essentially send words of affirmation to the frontlines or nominate their healthcare heroes to be featured. Then if you're a frontline worker, you can send in your own story. It can be art, essay, a poem, a photo, whatever. And you can enter your email to get the community-sourced content we're generating.
There's a Tweet going around saying, "I'm a healthcare worker. I don't want your applause; I want masks and generators so I can do my job." Why would healthcare workers want words of affirmation, or an outlet to write poetry, right now?
I think about that a lot. I spend my days working with my med school class to track down equipment for hospitals. Just today, I facilitated an order for 3,000 masks. Then I set up an online tutorial so doctors can refresh their ventilator skills if that's not their specialty. 9-5, I'm doing that. But at night, I'm addressing a human aspect.
What has the feedback from doctors been?
Before starting Faces of the Frontline, I actually blasted out the idea to a bunch of hospital residents. I said, "Do you even want this? Is it even worth it to you?" One resident said something really memorable: "The two most crucial things confronting us are supplies and mental health." For so many people, telling their story in a safe space is the first step out of trauma. So let me help with that part as much as possible… Triage is slightly different, obviously, but all forms of wellness need to be handled. The more people working to solve these problems now, the better.
What can we do from home to help Faces of the Frontline?
Spread the word. Tell hospitals to sign up; let them know there's a safe space for them to tell their story. The power of narrative at a time like this, and definitely after this is over, is so important.
Anything else?
PLEASE PLEASE PLEASE PLEASE PLEASE times infinity, stay home! Wash your hands and sanitize your spaces. Try so hard to stop touching your face. Don't think because you're young, this isn't your problem. Believe in science. It's our responsibility as healthy women to support this effort in every way possible. The more people we put at risk, the more we put you at risk. Practice social-distancing and keep staying home.