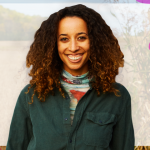 She's the leader of the snack. Jen Martin launched Pipcorn with only $3k in the bank. Less than a year later, the treats (which come in flavors like Jalapeño Cheddar, Cacio e Pepe, and Truffle) wound up on Oprah's famous "Favorite Things" list, lined shelves in Whole Foods, and even sealed a deal with Shark Tank investor Barbara Corcoran.

We asked Jen to share a bite of her daily life, her favorite meals (she wants everything to be a "mini-brunch,"), and how her mornings have changed since she started working from home.
7:30 A.M. I used to wake up a lot earlier because it takes me a long time to get out the door, and I had a long commute. But since I'm working from home, my mornings have actually felt like mornings, meaning I have a decent amount of time to myself… mostly because I am not looking for my keys or trying to move my car for alternate street parking.
7:45 A.M. The first thing I do in the morning is drink a glass of water. Making intentional choices about how you treat yourself and what you put in your body starts with little things. Then I make space to have a few moments of gratitude. Ideally, that morphs into meditating—but many days it looks like just taking a moment to pause and think about things I am grateful for and the people I love.
8:15 A.M. I get dressed and do my skincare routine. Workout clothes have been my typical WFH uniform. I opt for black Nike stretch pants and a Hanes tee. For skincare, Tata Harper is the best. (I use her whole line—her scrubs, serums and masks.) I also love Josh Rosebrook Vital Balm Cream. It feels like whipped dew and honey. Oh, and Ursa Major Vitamin C Serum.
8:30 A.M. I don't drink coffee, but I drink green juice, and that's my favorite part of the morning. (Nettle infusions, dandelion and chicory, or Four Sigmatic mushroom teas are my go-tos.) Then I check my schedule and emails to make sure there are no fire drills, mix up some green powder, and draw.
9:00 A.M. Without a commute, I have more time to FaceTime with my friends and family in the mornings. I spend so much time with friends, so having cute morning phone sessions with my people has been so sweet.
9:30 A.M. I love breakfast food, but as far as a routine, I'm a light breakfast and an early lunch person. I basically want every meal to be a mini-brunch. Then I log on to work. The first thing I do is check Slack, check my emails, and open my to-do list.