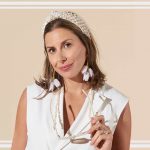 Once upon a time, Lele Sadoughi was the J.Crew designer who pioneered the "statement necklace" trend—you know, the one that ensured you never left the house without a giant bib of sparkles over your plain gray sweatshirt. Now an independent designer with her own brand, the Dallas native is beloved by celebs like Katy Perry and Zendaya, along with every Instagram fashion girl we've ever seen. But though Lele's been as big for headbands as Blair Waldorf, she's still just one woman running a small business… in the middle of a pandemic… and a financial crisis… and a national emergency. That's why tomorrow, Lele's hosting a "shop for a cause" event on her platforms, with proceeds going to the NAACP, along with a $2500 initial donation.

Here's how Lele is getting her work done from home, staying creative, and fostering a positive community for jewelry junkies around the country.
7 A.M. My body wakes me up. I haven't used an alarm clock since I've had children. My husband is more particular than I am, and he'll nudge me if I'm not awake when I need to be, but with two kids, that's rare!
8 A.M. I look through my emails overnight so I'm hearing from my team in Europe, China, India—early morning is when I get a lot of production issue emails because of the time difference…
8:30 A.M. I'm obviously not going anywhere, but I still get dressed every day before my calls. I'm never in pajamas. Today I'm wearing a long sleeve shirt, sunglasses, a headband… I'll really go for it. Getting dressed makes me feel more prepared for the workday, and also, for example… I had a call with a wholesaler the other day. She's like, "Your sunglasses—can I buy those?" Seeing the designs on a person can really help show how versatile they are, and how joyful.
9 A.M. I talk to my design and production team. If you want to know what it's like running a small business right now, there's a lot of moving parts and a lot of logistical changes. For example, there's a price surge in shipping because there are fewer airlines flying right now… Whatever department store delayed their shipment because they're closed means we have inventory being held up… There's a lot of finessing back and forth, and we've been pivoting to respond to what's happening as best we can. We're a small team, but we act like a real powerhouse.
9:30 A.M. You want to know my coffee order? Nothing! I stopped drinking coffee when I was pregnant, and I don't miss it. Is that weird?
10 A.M. I design every single piece in our collection, and my creative schedule has been thrown for a loop, obviously… I like to sketch, but we build every design on a digital program, so now I'm able to sit down with a tablet and diagram what I want to do… We had a handbag launch we're delaying, because you're not wearing a handbag as you work from home, right? And we also created face masks within two weeks. We want to make sure we're giving you what you need right now.
11 A.M. Do you know what's interesting? Our sales were down in March, but then in April, we actually did better than last year. I think it's because of a lot of things. Partly, accessories are emotional pieces. They make you feel better. We can't dye our roots. We can't get blowouts. But we can wear great accessories that make us happy, and remind us that someday soon, we will be able to go out into the world and connect with people in a personal, beautiful way. But right now, I've used this time as a chance to really connect with our community in a different way. I've done happy hours, interviews, tutorials—we want to keep people excited, while also acknowledging all the realities of working from home, and working through a pandemic.
Noon. I like a turkey sandwich for lunch, and once I get my kids settled with berries and carrots and chicken nuggets and all that stuff, I'll look on CNN to see what's been happening since the morning. But my husband is a news junkie, so he's my shortcut into what's happening. He woke me up [a few weeks ago] like, "Good morning, J.Crew is filing for bankruptcy." It's like having my own personal news anchor who follows me around.