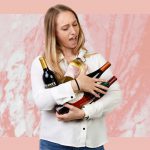 Thinking of buying another bottle of white for your summer sangria? Bright Cellars' Izzy Novinska asks, "Wine not?" Izzy joined the Bright Cellars team in 2019 as a "wine concierge." Her job was basically to act as a matchmaker… only instead of finding your perfect life partner, she finds your perfect wine pairing.

We asked Izzy if it's possible to get good wine for less than $15 (you totally can), how to salvage a bottle if you've dropped the cork in it, and what wine she always has in her kitchen.
What should we look for when buying wine?
When I'm at the store, I always try to pick based on the occasion for the wine rather than specific brands or labels. When I'm looking for something sweet to share with friends, I'll jump at a riesling or a fruity zinfandel. If I'm heading to a fancy dinner, I'll typically head towards the syrah or the cabernet sections. Knowing your occasion, and especially your audience, will help guide you here!
Can you get "good" wine for under $15?
Definitely! Price doesn't always correlate with how "good" a wine is, but it can be a factor! When I was in college, I frequently bought a $4 bottle from my local grocer because it fit my palate at the time. (Dear Mom, only once or twice a month, I swear!)  While I probably wouldn't die for that $4 bottle now, it fit in the moment.
What's one wine you always have on hand and why?
I am someone who always has wine on hand, so this is fitting! I like to have a semi-healthy stock for myself (who would've guessed that it's my drink of choice?!), but I try to have one red blend, and one sauvignon blanc ready to go for when I have company, just so that I have an option between red and white.
What's the point of spitting out wine when tasting it?
In a wine tasting, most will spit the wine so that they have a clear head when trying the next one. Think about it—if you're in a two-hour tasting and trying 30+ wines, it's probably not the best idea to go into it drinking each glass they give you! Being able to sip, swish, and spit will also help your palate pick up on different elements of the wine. For example, you'll feel sweetness right on the tip of your tongue, versus acidity, which you'll feel along the sides.
What's one mistake people make when storing wine that drives you nuts?
OMG. For me, it's definitely when red wine heads straight into the fridge. I am all for chilling your whites, but reds can stay on the counter for up to a week. This is not to say that red wine can't be enjoyed chilled, though! [But] reds' true flavors and personality shine when they're served at room temperature, so I recommend saving your fridge space and displaying the bottles proudly on your counter.
Oops! My cork ended up in the bottle. What's the best way to salvage the wine?
I've definitely done this before! To start, having the cork float in the wine for a little bit isn't the end of the world (I promise!). But my first recommendation is to get some friends to help you finish the bottle right away… If that's not possible, my second recommendation is to get a cheap reusable wine stopper. I have one for when tragedies like this happen. I have dumped the wine into an empty bottle, so the cork isn't sitting for up to a week, and popped in the reusable stopper to keep it fresh.