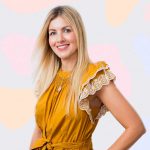 She's a metal head. Gorjana Reidel was 26 when she started her jewelry company by driving 50,000 miles to trade shows around the US with her first collection. Now she's got a multi-million dollar brand that combines modern materials with artisan partnerships in Mexico, but she still tries to make time for Stranger Things. 

Here's Gorjana's morning routine, complete with Nutella.
7:30 A.M. I have been getting up later than I used to, which has been really nice to get the extra sleep—although some nights we have been getting to bed later due to our Stranger Things marathons.
7:45 A.M. "The first thing I do is focus on my daily mantra and meditate." Umm, no. The actual first thing I do is grab my phone and check my work email to make sure there is nothing urgent. Then I check out what's really going on in the world, aka Instagram. After zoning out and finding some odd rabbit hole, I snap back to reality. Time to actually get my day started.
8:00 A.M. Since I am usually the first one up, I try to get any chores done that I didn't get to the night before (or just completely avoided doing the night before), like folding laundry or taking the dishes out of the dishwasher. This actually has turned into a semi-meditative time; it allows me to mentally wake up.
8:30 A.M. Before quarantine, I went to a lot of workout classes and was spending so much time getting there and back. I have really been enjoying the simplicity and efficiency of the at-home workout. I use Alexia Clark's app which has great weight resistance workouts. The other one I love is Sculpt Society. It's a mix of aerobic dance and great sculpting exercises.
9:30 A.M. Every weekday morning, we have a team check-in. It has definitely been an adjustment working from home and communicating with our team, but I feel like we are all in a good groove now.
9:50 A.M. Once our call is done, I jump in the shower to get ready for the rest of my day. My routine is drastically different than it was before. I don't wear makeup—just a touch of fun lip gloss, the most comfortable outfit I can find, and slippers (again). I think there is a market for "home shoes"… just saying. Then, I put on a bracelet stack and get ready to work.
10:00 A.M. My kids are usually up and hungry. I make breakfast for all of us, which is either pancakes or just some scrambled eggs and toast. If they are really lucky, I will put the extra effort in and make some crepes with Nutella.
10:30 A.M. Once everyone is fed, I get to my emails and have my virtual meetings and my kids do school work. The connectivity issues with four people on the same WiFi? I can't! But we are making the best of it, and I think this is the time to not be stressed and just do what you can. I feel very grateful for this time with my family.