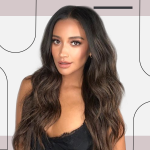 She's cleaning up her act, literally. A decade after Shay Mitchell became a star on Pretty Little Liars, she's racking up millions of views… by washing her hands on TikTok. Her #SafeguardSplash campaign is part of a $10 million initiative from the brand to protect families from COVID-19 and donate to organizations like Feeding America.

"Anybody can help stop the virus," says Shay from her home in California, where she lives with boyfriend Matte Babel and 8-month-old daughter Atlas. "I have a baby who can't stop moving… and honestly, neither can I! So when I tell you that washing your hands the right way is simple," she laughs, "I really mean it." Here's how Shay scrubs into her mornings.
7:30 A.M. Atlas is a good sleeper. She wakes up at 7:30, and that's when we start the day. If I didn't have to be on set, 7:30 used to seem so early to me, but now it's great.
8:00 A.M. I have this little ice roller that I use on my face to help wake up my skin… I used to do 'ice baths' where I'd plunge my face into ice water, but this is so much simpler. Now instead of filling up a bucket, I just grab it out of the fridge.
9:00 A.M. One skincare line I'm obsessed with is from [the esthetician] Shani Darden. She makes my routine very simple, and in the morning, I just wash my face, then use moisturizer, eye cream, and sunscreen. The sunscreen is so important; you've got to use it every day, even if it's not sunny. Even if you're not going outside!
9:30 A.M. The first thing I do in the morning, after getting Atlas settled and doing skincare stuff, is usually answering all my text messages. I have a lot of group chats, and a messenger chat with my mom and grandma so they can check in with Atlas. It's a lot of catching up!
10 A.M. Atlas is 8 months old. She puts everything in her mouth right now. We want to start her early on healthy habits, so we've been taking the #SafeguardSplash challenge to heart… The pandemic is disproportionately affecting minority communities, and it's really important to step up and make sure basic health supplies are accessible to everyone. So we lather up our hands together and sing the "Happy Birthday" song twice over, which she gets a kick out of. I think she thinks it's her birthday every day. But singing it twice is important, because we need to wash our hands for [at least 20 seconds].
11 A.M. During quarantine, I've definitely amped up my cooking skills. I just got an air fryer. I've been perfecting my omelettes… I get a lot of recipes on TikTok, believe it or not, but I haven't jumped on the tiny pancake trend. I prefer one really huge pancake, don't you?
NOON. It's fun reading with an 8-month-old. Babies understand a lot more than I would have thought before I had one. Our go-to book right now is A Is for Activist [by Innosanto Nagara]. We believe you can never start your kids too young when it comes to equality and doing what's right. So this book has been great.
BONUS QUESTION, BECAUSE WE HAD TO: Hey Shay, when did you know the ending of Pretty Little Liars?
Pretty much when you did! I had no idea what was happening to [my character] Emily before we would read through the script and shoot the episodes. None. They wouldn't tell us anything! Looking back, that's probably a good thing, because I think maybe the only one of us who could keep a secret was Troian [Bellisario]. And she really kept that secret until the end!