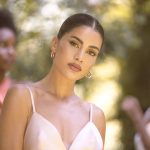 Skincare is everything for me," says Camila Coehlo, and it's easy to see why. As the rare influencer who's conquered Instagram, YouTube, and TikTok, the 32-year-old Brazilian is always in selfie mode, and she's turned digital style into an entrepreneurial launch pad with her good-girl-gone-glam vibes. Here's how Camila gets through a morning…
8 A.M. I wake up now in order to get ready and start my day by 9. I'm a heavy sleeper, so I have to use an alarm clock… and it usually takes me a few alarms to wake up!
8:30 A.M. I usually get dressed and put a little makeup on before I go downstairs for breakfast. I like to have breakfast in the outfit I am going to wear for the day, or else I end up having breakfast and checking my emails in my pajamas. My go-to outfit right now has been sweatpants sets—tie dyes, neutrals, any kind of loungewear pieces that are comfortable and cute at the same time.
9 A.M. In the morning, I start off by washing my face with water. Then, I apply my favorite go-to face oil which is a product that is coming to my brand Elaluz in the next month (big spoiler), an eye cream, and then I use a Gua Sha tool to give my face a lymphatic massage to de-puff. I then apply my favorite sunscreen by SkinCeuticals and the Elaluz 24K Lip Therapy. On days that I don't want to wear a lot of makeup, but I still want to look flush and healthy, I'll apply the Elaluz Lip & Cheek Stain to give my face that natural glow.
9:30 A.M. This is my ideal breakfast time. I have scrambled eggs, black coffee, and my homemade Pão de Queijo [traditional Brazilian cheese bread]. It's a perfect carbohydrate and protein combination. I usually drink my coffee as I start to check my emails for the morning.
10 A.M. The first thing I do on my phone is check WhatsApp every morning. I use it primarily to chat with my family [in Brazil] and keep in touch. Most mornings, there are new photos of my newborn nephew, which always make me smile!
11 A.M. I don't have a specific morning mantra, but I do try to take a few minutes to reflect and think about the things I am most grateful for. Then it's back to work!