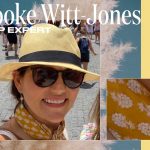 She's putting us to sleep. Brooke Witt-Jones is the Vice President of Product Development at Avocado Green Mattress, where she designs mattresses, bedding, and furniture that are just as good for your rest as they are for the planet. (And they are really good for the planet.)

"I want people sleeping better at night so that they can be their best selves," she says. "My goal is to help, even if it's in a small way of making an organic mattress or an organic pillow."

Here's how the mom of 2 oversees production AND marketing from the other side of the globe, uses cutting-edge research to build soft-edge bedding, and how she "tests" her sustainable products. (Newsflash: Jumping on a new mattress is not the industry standard.)
So Brooke, what do you do?
I lead the product marketing team at Avocado Green. We come up with concepts for products, then we push those products to market. We work with nearly every team, from customer service to production to logistics, so it really is this total team effort to develop products that our customers love.
Mattresses have been around for centuries, and there are so many different kinds. How do you approach inventing ones that are comfortable and climate-neutral?
We are doing our research, for sure. We're looking at the data; we're looking at science… I must get several articles a day about improving sleep and new materials and things like that, so it really is just embedded in our culture, which makes it a really seamless process.
How do you ensure your products are sustainable?
We're vertically integrated, so we source materials from our owned-and-operated farms in India. We have employees all over the world sourcing the most sustainable materials for us. It definitely adds a layer of complexity to our development, so it takes a little bit longer [to make new things], but it is really what we're all passionate about… One thing to think about, too, is the chemicals that go into the manufacturing process. We are one of the few GOTS-certified organic mattresses, so we're reducing the chemical load. And on the off-chance we have a return, even though our mattresses are biodegradable—except for the recycled innerspring—we try to find a [new] home for that mattress, whether it's at a women's shelter or another nonprofit.
You also make furniture, right? How is that different from making mattresses?
We actually manufacture all of our furniture in Fullerton, California, and we own our own woodshop. So we come up with the concept, the designer draws out the furniture, and then we go through the prototyping process. We are there literally every step of the way. My favorite day of the week, really, is Tuesday, because that's when I go to our woodshop. I get to see the craftsmanship and the materials we're sourcing, and the labor practices are really incredible. We're B Corp certified, so we're manufacturing furniture the right way.
Help! I need a blanket to sleep, but it is very hot right now. How can I stay cool?
For a hot sleeper, I personally love linen sheets. We have a great set of organic linen sheets, and then we have a linen duvet cover as well that would give you some weight.
We just read an article saying the perfect number of pillows is 4. Do you have any other insider tips on getting good sleep?
If you're a side sleeper, then our molded latex pillow is great. (I'm a side sleeper, and it's literally my favorite product that we have.) And we just launched a mini version, so I travel with it and take it to hotels. The other thing is, if you're a side sleeper, sleeping with a pillow between your knees keeps your spine aligned.
How has working at Avocado changed how you view sleep?
When I became a mom, things changed, and working at Avocado just reinforced that. I want my kids sleeping on the safest materials, so it's really important to me that we provide materials that are good for ourselves and good for the people making them. The other thing that's interesting is that there is this cultural shift to valuing sleep, right? There used to be this idea that sleep was a luxury and not a necessity, but now there seems to be this newfound understanding that we can't be our best selves without high-quality sleep.
You're a sleep expert. What's your sleep routine?
Since I'm always researching this, I feel like I kind of have it down. [Laughing.] I put away my cell phone, on a good day, 90 minutes before I go to sleep. I try to have the phone charging outside the room. I find that when I let it slide and I have the phone with me [in bed], it does impact my sleep… I'll have a cup of chamomile lavender tea. Then I'm lights out at 10 P.M. every single night.
In your expert opinion, is jumping on beds the best way to test them?
That is not how we test them at Avocado! But it certainly couldn't hurt… When we're thinking about what our customers are going to love, we test on humans, right? So we test on employees, friends, family… My husband and my 2 kids have tested nearly every product we've launched over the last 12 months. They really are the harshest critics—especially my teenage daughter! As you can imagine, she is… the toughest of critics. [Laughing.]