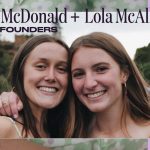 Care Bears, meet care warriors. Pilar McDonald and Lola McAllister are the co-founders of Project Matriarchs, a nonprofit matching virtual tutors with families in need of child care. They've been best friends since becoming vegetarian together in 4th grade, but never did they ever (like ever) think those girls would grow into 2 Ivy League students (Pilar goes to Brown; Lola goes to Stanford) and fight to start a care revolution.

We asked the 20-year-olds how they became care advocates, balance college and co-founding, and recruit more Gen-Zers to their cause.
Why did you start Project Matriarchs?
PILAR: We'd both just finished our first year of college, and were unsure of what the next was going to look like. As white cis women with educational and socioeconomic privilege, and with so much happening around racial justice, environmentalism, and COVID, it felt urgent to do something with our time and energy. That [was the] impetus for Project Matriarchs. We wanted to create genuine change [because] we were seeing the news of female-identifying parents not being able to have support, so we started having all these conversations with working parents.
How did those talks lead to a nonprofit?
LOLA: The solution needed to be urgent, but there were a lot of constraints because [of the] pandemic. We were thinking, what resources do we have to leverage? And it was our community of college students, so many of whom were taking time off from school. We decided to start matching students with families to provide virtual support that was COVID safe. We set it up as a sliding scale, so people could [pay] nothing at all or $5-$10 an hour.
PILAR: We've gotten a lot of positive feedback. [But] now, we're working on, how do we turn this into something that can be as helpful as possible rather than a Band-Aid solution that was necessary a year ago?
How do you pay your tutors?
LOLA: A lot of fundraising. In the beginning, we asked companies to offer this as a benefit to their employees. Honestly, we were really surprised by the level of interest we got back. Companies started to reach out, and we didn't have to do any outreach ourselves. But then we just got completely stuck in the bureaucratic ladder, and nothing panned out.
What has being a founder been like for you both?
LOLA: Never in a million years would I say, "Pilar and I are going to become founders and social entrepreneurs." I did not see that coming.
PILAR: I've definitely found something I care a lot about. It's been amazing, but it also can be overwhelming.
LOLA: As a female founder of a nonprofit, I feel like there's this implicit judgment cast that, "Well, what you're doing isn't really cutting edge." I've experienced a lot of, "Oh, that's a cool project you're working on." I'm like, "It's not a project; it's an organization. We're trying to start a movement." That's one experience where I'm like, "Okay, I feel really good that what we're doing is impact-oriented," but it sometimes can be trivialized.
You are founders, but also full-time students. How are you handling that?
PILAR: Planning ahead. I feel lucky [that] over the past year, we have worked so closely together to really figure out what each other's strengths are [and] how to delineate responsibilities.
LOLA: It's been challenging. It's showing ourselves grace and realizing that in the long-term, how effective our work is will depend on how much energy we can put into it. In order to maintain that passion and energy, you have to do some self-care in the meantime, like getting enough sleep and spending time with friends to re-energize.
How has working together affected your friendship?
PILAR: It has definitely strengthened it. I've never cared about something in the way I've cared about Project Matriarchs or this issue, and so doing that with someone that I've loved for the past 10 years feels very special.
LOLA: We've spent so much time together, and it was such an amazing opportunity that was so unique and bizarre and may not have presented itself in any other way. We both experienced our own reckoning with what care will look like in the future, and we went through that together.
What's next for Project Matriarchs?
LOLA: We're working on a concept called Quarantine Care, because although kids are going back to in-person school, they will inevitably and unpredictably be quarantined when people in their community test positive. We're thinking of putting together a virtual program to cover those hours between when school programming ends and the workday ends. There's such an opportunity to bring our generation's organizing power behind the mission to create care infrastructure in the US, and there's incredible momentum already happening. We're seeing all that play out in Congress as we speak, so we've [also] decided to form an advocacy branch focused on corporate policy change.
PILAR: [Also,] this past summer, we had a team of 30 interns—all college students—working on what we're calling our Pledge to Care. During our interviews for tutors, we had a lot of deeply personal conversations about what caregiving meant, like, "This is something I want to do because I had a single mom," or, "This is how I cared for my grandfather when he was sick." Before starting Project Matriarchs, I didn't see care as an integral issue to our generation. That's completely switched. If we aren't valuing caregiving, there isn't a way to continue fighting for a more equitable future—especially because a lot of caregivers are not only underpaid and undervalued, but also are women of color who aren't being showed the value they deserve.