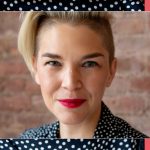 She's the hostess with the oats-ess. Heidi Hackemer (who we're 97% sure is Ruby Rose's long-lost sister) has been the executive creative director for Oatly North America since 2020. The Proud midwesterner's IG bio reads, "nothing to it but to do it," and that's how she makes sure the sexy-but-make-it-anti-dairy brand "is not just about billboards."

Since that big football game is just a few yards away, we asked the 42-year-old about the company's controversial Super Bowl commercial last year, why she loves a frat guy mentality, and what to look for in a coworker (see: being weird AF).
What's your job?
I run the creative team that produces everything Oatly in North America. There is no typical day, but in the very early mornings, it's usually a mix of playing around with creative work and figuring out business sh*t. And a big part of my job has been building out the staff.
What's your advice for finding good team members?
Look for the weirdos. I always look for people who can 80% fulfill the brief of what I'm looking for. And then the 20% reason they're not perfect is because they're doing some weird-a** project or side hustle.
What are some big projects you've taken on in this job?
In my first week, we had to [figure out] whether we should do the Super Bowl or not. So that was like, "Welcome to your new job, you've got to make this decision."
That commercial got backlash for being too simple. Were you guys worried about that?
It's the way we think about everything, especially when it comes to advertising. What is the normal way of doing it, and how can we do the exact opposite or the funniest thing? When you think about a Super Bowl commercial, it has a high production value with celebrities. You're either riding on the spectrum of super funny or super heartstring. We recycled our old Finnish TV spot from 2013. For us, that's a classic Oatly move. If everyone treats an ad space a certain way, we are going to figure out how to f*ck with that.
Oatly recently expanded into vintage fashion. How does that play into your marketing strategy?
A few months ago, we launched ReRuns. What we realized was putting out new merch in the world is crap; it's not a great thing to do. So we did this whole upcycled merch program that we're experimenting with right now. It's something I'm pretty psyched about.
Why did you decide to only partner with female artists for the upcycling?
We love working with artists who are very cool—who aren't social media influencers, but still really deserve to be put on the pedestal. I'm a female ECD and the creative director on the project was a woman, so we were like, "Let's just do all women for the first round, because that'd be really rad."
A lot of brands are jumping on bandwagons for sustainability, anti-racism, etc. How do you try to convey that Oatly's progressive campaigns are authentic?
First is, "Do we have a right to be interacting with that community?" With ReRuns, our profits went to the Lower Eastside Girls Club because I've been volunteering with them for 17 years, and I know the work they do, like making sure girls are educated in environmental justice. And they're our recipient for the next 3 drops, so it's not just one-and-done. That's the worst way to engage with the community.
What's been your guiding principle in this role?
I have a point of view that you only live life once, so you may as well f*cking go for it. Whenever I get a little bit afraid, I ask myself, "Would a mediocre white man be afraid of this? Probably not. So I'm going to go do it."
So the Joe Rogan mindset?
Exactly. [Laughing.] I am Joe Rogan.