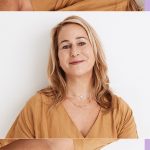 She's a field expert. Liz Hershfield is the Senior Vice President and Head of Sustainability at Madewell. She's played a key role in achieving the goals of the brand's Do Well Report, like launching a successful resale program, growing representation of Black-owned businesses, and increasing the store's use of sustainable / ethically sourced materials. The number of initiatives she's spearheaded during her decades of experience in the industry have undoubtedly made the world a better—and more eco-friendly—place.

Here, the New Yorker describes the conversation that made her "go green" forever, why denim has such a strong impact on the environment, and how she paved the way for Madewell to recycle one pair of jeans per minute (!).
So how'd you end up working at Madewell?
I've been in the industry for 27 years and worked for Bonobos for about 10 years. That's where I became really passionate about sustainability. Eventually, I felt like it was time to move on. I got this opportunity at Madewell and just loved the brand, its vision, and its people.
When did you decide to focus your career on sustainability?
When I was at Bonobos, the founder's wife was so passionate about the environment, so she was very upset that she was dating someone running a fashion company. My boss finally told her to come talk to me about it. I was honestly really inspired by her viewpoint, and fortunate that the company had an ecosystem and infrastructure that let us delve into it. It's been an amazing journey since then.
Tell us about the Madewell Forever program.
We're very passionate about circularity. Since the core of our business is denim and it has such a strong impact on the environment, we let customers bring in any pair of jeans—they don't have to be from Madewell—to any store, and trade them in for credit towards a new pair. We're also launching an at-home version where you can mail them in. We started the program last summer and have collected one pair of jeans per minute since then.
Why does denim have a greater environmental impact than other clothes?
It has to do with the production and dyeing of cotton. The process uses a lot of water, which is why we're also focused on our water stewardship. And the manufacturing of the yarn can be really bad for the environment, so we've partnered with Saitex, which is a top sustainable manufacturer. They essentially take denim waste and turn it into bricks to build houses with!
What are some big challenges brands face when trying to be 100% sustainable?
Brands get nervous about the costs that come with developing sustainable products, so they need to approach it in a very strategic way. It can also be overwhelming because there are so many aspects of sustainability to focus on, so they either don't do anything or try to do everything and don't achieve it. That's why it's really important to narrow down and think about where you want to make the biggest impact. Something is always better than nothing.
What's been the most rewarding part about this whole process?
Our Fair Trade program supports the people who make our product. In 2019, the workers at one of our factories collectively decided to buy supplemental health insurance with the money we paid them. The dollar amount may not seem like a lot to some of us, but to them, it can be a whole month's paycheck. The factory owner told us what an impact this work has made on their lives and how passionate they are about making our product—he almost got teary-eyed about it. When you hear stuff like that, it just makes you want to keep pushing forward.