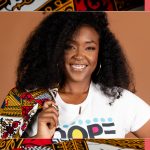 "Every time a Black woman signs into therapy with me, I am reminded of the importance of the work I am doing."

Talk about some mental wellness inspo, 'cause that's exactly what Monique Dozier (she / her) is delivering. She's the founder of Journey to Genesis Mental Health Services, a private practice specializing in Black womanhood. As a social worker / licensed therapist, she's worked in veteran affairs, hospital ERs, and virtual care. She's witnessed firsthand how the healthcare system fails women of color, but George Floyd's murder and the resulting racial reckoning spurred Monique to launch her own business.

Here, we asked the self-made CEO how her own experiences with motherhood fuel her professional passions, the first steps to take when it comes to counseling, and what we should do if we're not feelin' it with our current clinician.
How does your background impact your work as a therapist?
It's the meaning behind everything I do. My psychotherapy practice focuses on Black women's journeys to and through motherhood. That can range from trying to conceive to postpartum depression to even the loss of a child. I had my own journey with infertility for years due to complications with endometriosis and fibroids, so I know that struggle. I also remember that navigating the healthcare system was extremely challenging—even as a clinician with multiple years in the medical field. Just knowing that Black women face so many disparities in mental health and healthcare in generaI, I knew I needed to be a voice and resource to my community.
What does it mean to you to provide culturally competent care?
Culturally competent care is when clinicians provide services in a way that takes into account that patient's background. To me, it's the ultimate gauge of empathy. Quite often, the surface-level appearances of a client's behaviors or life choices can be met with bias from a provider, even if it's subconscious. Having a therapist that relates to your cultural experience and understands your background also reduces the desire to code-switch, giving you the opportunity to show up as your authentic self from the very first session without fear that someone is going to judge how you speak or your jokes or even how you did your hair that day.
How can someone get started with therapy?
If you have insurance, start with calling your behavioral health services line and ask what steps you need to take to see a therapist. Also, ask if you can request a therapist based on your preferences. If you can't, there are sites like Psychology Today that let you search for therapists by things like race and sexuality. Or, you can just Google, "Therapist near me." That's how some of my clients found my practice.
How can we encourage someone we care about to seek help?
The most important first step is to be a supportive listening ear. Let them be vulnerable so they can see the benefit of speaking about their challenges. When suggesting therapy, it's best to keep the conversation chill, unless you believe they're in imminent danger. Lightly mention that therapy could be helpful, offer to assist them with their search, or be transparent and let them know your own positives from counseling. But it's also important to remember that you cannot force anyone to engage in therapy. Every adult has the right to choose, and while it may be painful to watch someone suffering, we must always remember that we are only assisting, we are not the solution alone.
If someone isn't connecting with their therapist, what should they do?
Don't give up on therapy if you don't gel with your first clinician. So often folks go through hoops to get to that initial assessment, then never return because they weren't impressed with how a clinician answered a question or they didn't feel their energies aligned. I always suggest going to a few sessions to make sure it was not just first session jitters or an off day. But if you know it's not a fit, don't feel like you have to stay just to pacify a therapist's feelings. At my practice, I always do free 15-minute "vibe checks" to see if our style and energy click. If not, we both move on and know it was the right decision.