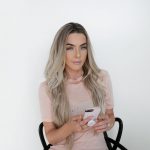 Lauryn Evarts is an influencing powerhouse. She chronicles her life via her blog The Skinny Confidential, and is constantly getting real with her 700,000+ Instagram followers about wellness, beauty, fashion, and being a boss. Whether she's giving you the perfect recipe for a post-workout snack, or telling you about the latest beauty treatment she's tried—you're guaranteed to be informed and amused. To celebrate Lauryn collaborating with The Newsette as a contributor, we thought we'd sit down with her and ask some burning questions that we've had since the moment we stumbled upon TSC. See her creative, informative, and delightful answers below.
We love The Skinny Confidential HIM & HER Podcast. How did you come up with the idea and what is it like working with your husband?
Evolving and adapting your business is key. Michael has a HIM section on the blog which the audience was really enjoying and we were listening to tons of podcasts. We noticed that attention was moving to podcasts and thought it would be a fun medium to test out. Well, the real story is we were in Cabo drinking ginger margaritas and we thought WHY NOT? Let's try it. It's certainly been a work in progress. It's such a unique medium because you're in someone's ear while they're doing errands, makeup, or cooking. Podcasting has been such a fun outlet to connect with the community. The people we've been able to interview have been insane too. The podcast is something we are putting a lot of effort into right now.
You talk a lot about the business of blogging – how many followers/views did you have when you started doing paid work? Do you ever say no to brands, even if they have a large budget?
Paid work started very small and very organically. I would say it took two years to make money. I didn't go into this business with just the idea to monetize. Monetization was not in the forefront of my mind. I wanted to create quality valuable content for women around the world. The community was the foundation. I blogged every day, 7 days a week until I made a penny. I was bartending and broke as shit. It was something that evolved naturally with The Skinny Confidential. As far as what I choose to feature, I am very picky. Trust is key with my audience. I don't want to jeopardize that. My advice: consistency, patience, quality, branding, & think long-term.
Being a boss means having to deal with the not so fun side of business. Have you ever been burned by a partner or employee? And if so, how did you deal with it?
Yes definitely. One time I was on the phone with a brand talking about a potential collaboration. After we hung up they called me back accidently. After answering all I did was hear them shit talk me for about 5 minutes – even after I said I was on the line. Instead of getting angry, I used the emotion to write a blog post that talked about women bashing women. I've always been about collaboration over competition. If I can be a role model in the space for other women to connect, I am happy!
You are a health addict, and your posts inspire us to be more health conscious. What is one food that you're currently loving and how can we incorporate it into our daily diets?
GG crackers. There are SO many ways you can use them. I make skinny french toast, pancakes, pizza, and open-faced sandwiches with them. You can even use them for meatballs and lasagna. The options are endless really- if you want to hear more you have to listen to our latest podcast with Tanya Zuckerbrot; she's a goddess & so informative. Basically, GG crackers are incredible because they are loaded with fiber which is an indigestible carb. This means you stay fuller longer and actually speed up your metabolism.  I also love celery juice, chlorophyll, & spirulina.
If you could work with any brand (that you haven't already partnered with) what would it be?
Ohhh tough question. Probably Peter Thomas Roth. I love his products and I use them daily. Since my brand is so much about preventive beauty, this is an ideal fit.
Where do you see yourself in 5 years? How will The Skinny Confidential brand expand?
Creating a strategic future is KEY for me. This is something I have done since I was 18. I map out where I am, where I want to be, and how I'm going to get there. On The Skinny Confidential I posted a worksheet relating to this for the readers to fill out. They loved it. The whole exercise is super helpful in creating your own destiny. Eventually: a product line, another book, connecting more with the community, more meet-ups, & lots of podcasts.
Is being married different than being engaged or dating? How has marriage changed your life so far?
We're a team. Our goals align. I wouldn't say it's different but it's certainly another dynamic, especially since we work together. It can get tricky, you know? Marriage is a dance. We recover quickly when we fight which I think helps. We don't want to allocate too much energy to fighting. We'd rather put it into building the brand, our businesses, & our relationship.
If you could only use three beauty products for the rest of your life, what would they be?
Oils are number one. Rosehip, jojoba, coconut, apricot. All the oils. They're incredible for your skin, help with aging, discoloration, and provide a dewy glow. Second would be my Clarisonic Smart Profile Uplift. This device delivers the best facial massage. My face CRAVES facial massage. It increases circulation which helps with puffiness and wrinkles. Finally, I could not live without caffeinated sunscreen. SPF is SO SO SO important. I try to stay out of the sun as much as possible and wear this every day. It protects your skin and the caffeine tightens your pores. It's like an instant facelift. I won't put makeup on without it.
What's one thing that's always in your bag?
A water bottle. Mine has electrolytes and chlorophyll in it always! I add chlorophyll to my water since it helps increase the oxygen absorption in your blood. This increases energy and cleanses your body from the inside out. It's FAB. Also, I have a time cube in my purse which is weird. And GG crackers. And peppermint tea packets. HA!
What would we find on your nightstand?
A book. Michael & I love to read together before bed. Reading is one of my favorite hobbies. Right now I'm reading OPEN by Andre Agassi and Building A Story Brand by Donald Miller.