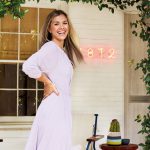 The queen of athleisure, Tyler Haney, launched Outdoor Voices in 2013 as a re-imagination of a no-stress approach to fitness. Her modern yet simplistic designs brought something refreshing to the market of loud and flashy workout wear, and the company has since garnered a huge fan base ranging from Gwyneth Paltrow to Lena Dunham. On top of OV's success, the Parsons School of Design graduate was also featured on Forbes' 2016 30 Under 30 list. Wondering what this design boss does before hitting the Outdoor Voices office? Enjoy her full morning routine below.
7 A.M. The first thing I do most mornings is drink a big glass of cold water and make a Tocos vitamin E latte. Word on the street is that it makes your skin glow from the inside out, but I'm down to believe any health benefits for something that tastes like a milkshake.
7:30 A.M. I like to start the day with a little activity, so I usually head to Lady Bird Lake trail with my pup, Bowie, for a quick jog. Pro tip: Found My Animal dog leashes clip around your waist so you can jog hands-free. Austin is the most recreational city I've ever spent time in—it doesn't matter what time you hit the trail, there are always a ton of people out there doing things.
8 A.M. I'm all about daily dips. After a jog, my favorite thing to do is jump in the pool to cool off before starting the day. Our Tech Sweat Biker Shortsand Athena Crop take you from the trail to the pool and double as an awesome bathing suit – the material's super slick in the water and it dries quickly once you're out.
8:30 A.M. After rinsing off, I get ready for the day. l'm pretty minimal when it comes to makeup – eye drops are one of my favorite beauty products (even after a late night, they make you look wide awake). I spray on someShiva Rose rosewater, followed by Keys moisturizing sunscreen and a dab of Glossier Cloud Paint for a flushed, post-workout glow.
9 A.M. Josephine House is my favorite breakfast pit stop. I usually grab a spicy green juice and an iced goldeneye on my way into the office. Can you tell how much I love breakfast beverages? Gotta hydrate first thing!
9:30 A.M. I get to the office and try to spend at least the first half hour tackling as many emails as I can. I like to start the day with some quiet time to think about what we need to get done – it sets the tone for the rest of the day.
10 A.M. On Tuesdays, we have an all hands meeting, where we video conference with the team in New York. The meetings get bigger and bigger every week – so many new faces. We recap everything we accomplished in the past week and get super excited about what we're working on.