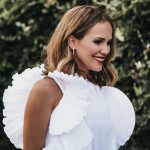 Angie Wilson Harrington is the founder of ultra-cool fashion and beauty blog The Fashion Fuse, a chic destination known for making affordable clothes look like a million bucks. Angie says her goal is to "help others to look and feel their best to become their best at any price point." That's definitely a mission we can get behind. She's also a self-professed wannabe-vegan, and mother to two boys–as well as two adorable English bulldogs. Wondering how this stylish blogger and mother ends her day? She shares it all below.
6:30 P.M. I either cook dinner (usually plant-based), get takeout or go to dinner with my husband and two sons. Either way, we do our best to make it a point to eat dinner as a family. Sometimes my husband and I have to attend a dinner or event for work, but I prefer staying home. Does that make me sound old? If  it does, oh well! I desperately try to get my boys to eat at least two-three servings of vegetables during dinner time.  It's no easy task!
7:30 P.M. If one of the boys doesn't have a football, basketball or baseball game, this is the time that we work on homework, piano and reading. I try to get most of my blog/styling work done by 3pm, and after the kids go to bed, so that I am available to my children when they need me.
8:30 P.M. To avoid the munchies I get at night, I usually grab a Pellegrino with fresh lemon or an herbal tea and wind down. To be honest, I love TV.  I do control how much I watch, but watching TV is one of my favorite things to do. The boys and I will usually watch Chopped Junior, Sports, Born This Way or sometimes I'll let them watch an episode of The Real Housewives with me. Not my proudest parenting moment, but they really like it when I let them.  For some reason they're into the OC Housewives. They must have a thing for blondes!
9:30 P.M. Time for the boys to go to bed and time for my husband and I to hang out. Because my husband puts in fourteen-hour workdays, this time is important to us. We both grab our laptops, throw on our favorite shows and get to work. He is much better at watching and working simultaneously than I am.  I am constantly asking "wait what did they say?" or "can you rewind that?" It makes watching TV with me no fun!
10:30 P.M. I almost always wind down with a bath. I shower in the morning and bathe at night.  It's a great way to reward myself after a long day. I either throw in some jasmine, gardenia bath salt and oil, or a Lush bath bomb. It makes me happy every time I bathe. Right now I am using Beauty Bioscience's skin care line, including their Glopro tool and I am in love.  It would take something pretty special to sway me. I finish up by washing with Molton Brown Pink Pepperpod or Tom Ford Oud Wood body wash. Even if I just take ten minutes to bathe, it does wonders.
11 P.M. I say my prayers, take my magnesium and melatonin to help me sleep, set my alarm (so I can get the boys ready for school) and then hit the sack.  My poor husband stays up until about two working and responding to emails while I sleep. I have a big warm bed, food and water, shelter, a job I love and a healthy family. Lucky is an understatement.