May. 14 2018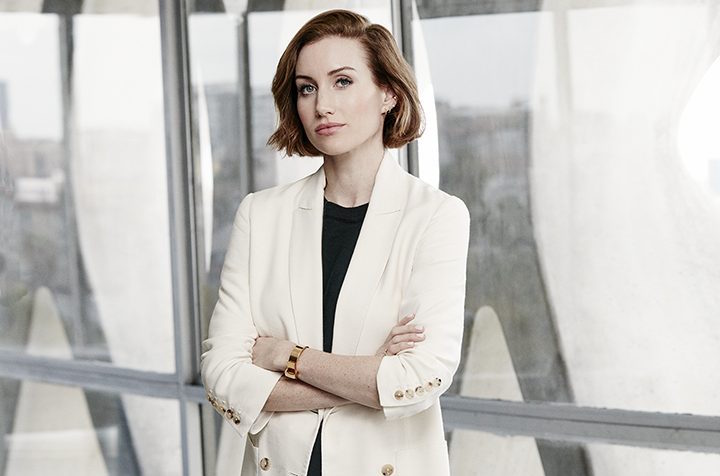 Katherine Power is a Fortune 40 Under 40 honoree and the co-founder and CEO of Clique media–a marketing and consumer brands business recently named to Fast Company's Most Innovative Companies list for 2017. Clique is the parent company of leading content properties you most likely frequent: Who What Wear (fashion), MyDomaine (lifestyle), Byrdie (beauty), Obsessee (a social-only network for Gen Z girls), The Thirty (wellness), and College Fashionista (a higher-education community for content creators). Over the past two years, Clique has also developed a consumer products division, which launched in early 2016 with its first clothing, shoes, and accessories line exclusively with Target under the Who What Wear brand and recently added an activewear collection, in partnership with Target again, called JoyLab that was released in October 2017. Needless to say, Katherine Power is a very busy woman. Wondering how this media boss spends the early hours of the A.M.? Take a peek into her productive morning routine below.
5 A.M. I wake up and get ready for a workout.
8 A.M. I'm done with my one hour workout at Tracy Anderson (6-7 A.M.). By this time, I have already done my first phone call (typically to someone on the east coast) and have eaten my breakfast (some scrambled egg whites, turkey bacon, and a bit of rice or maybe some avocado). I spend the next half hour playing with my son Sebastian, or getting him dressed for the day, before handing him off to his wonderful nanny.
8:30 A.M. By this time, I am in the shower, or post-shower, quickly getting ready to leave the house. I put on my moisturizer, Kiehl's Crème de Corps for the body and currently Glossier's Priming Rich Moisturizer (great for dry climates) for the face. Then I use some Ouai Wave Spray and Ouai Styling Wax in my hair. My hair is short and it looks best if it's air-dried, so it's a pretty simple process.
For makeup, I use Clé de Peau Concealer on red areas and blend it in with the "face round" brush from this set on Amazon, which I learned about from Byrdie.com. I don't wear foundation unless I'm going to an event or filming something and need to be in front of a camera. I am currently testing blush formulas for our new makeup line, but I typically use some sort of cream blush and a swipe of highlighter. I like the easy-to-use Clinique oversized crayon, on my upper cheekbone.
I've recently removed my lash extensions, which I wore for years, in favor of a more natural look, which I really feel is on its way back. I use Clinique's Naturally Glossy mascara for my uppers, and their Bottom Lash mascara on the bottom. I put a lip on while I'm en route to work, usually French Girl Lip Tint in Cerise.
9 A.M. I leave the house, either to go to my office or to my first meeting.