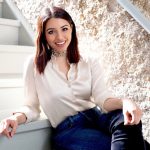 Justine Marjan is a leading celebrity hairstylist, with clients including the Kardashians, Chrissy Teigen, Ashley Graham, and more. Besides being the brains behind some of Hollywood's most famous manes, Justine has managed to translate her skills into a huge social media following, where she shares her work. She's also an ambassador for The Hollywood Silk Solution and OLLY vitamins. Wondering how this busy celebrity hairstylist spends her mornings? Find out below.
6:30 A.M. I've always been a morning person, and I love getting up early and seeing the sunrise–especially since we have a beautiful view of it where I live. Right when I wake up, I put a tablespoon of organic unrefined sesame oil in my mouth and swish it around for 20 minutes. This ayurvedic ritual of oil pulling is said to build teeth and gum health, while detoxifying the body.
While the oil is swishing, I start making stovetop espresso. I discovered stovetop espresso in Italy over ten years ago, and I've been obsessed with the craft and the amazing quality ever since. My fiancé and I are coffee snobs, so we grind our own fresh espresso beans each morning from Go Get Em Tiger or Stumptown. Stovetop espresso takes a few minutes, so I warm up hot water in the meantime.
7 A.M. Once I've finished oil pulling, I'll rinse my mouth with salt water, brush my teeth, then drink a warm cup of hot water with lemon and apple cider vinegar. I travel a lot, so it's important for me to have a pH-balancing drink right when I wake up to prevent me from getting sick.
While I sip on the warm lemon mixture, I get my iced almond latte ready with the fresh espresso, and make one for my fiancé to wake him up with in bed.
7:15 A.M. I love having a little bit of quiet time in the morning and I LOVE having a leisurely morning more than anything else, so when I have the time, I like to sit on my patio or in my living room, answer emails, browse social media, and drink my coffee. I'm admittedly a really fast drinker and eater, so this usually doesn't last for as long as I'd like.
7:45 A.M. Head to Equinox and Hot 8 yoga, both down the street from me. At Equinox, I work out with a trainer and at Hot 8 I love the power yoga and sculpt classes. I've always been super active, so fitness is a really important part of my day for mental health and stress release. I usually work out for an hour, then head home and shower.
9 A.M. When I get home, I prep everything for my morning smoothie, then hop in the shower. I keep frozen berries, acai packets, frozen young coconut, and e3live in the freezer, so I need to get them out with enough time to thaw. In the meantime, I put spinach, green tea, almond milk, hemp seeds, and OLLY Plant-Powered Protein or Superfoods Smoothie blend in the blender and let my fiancé finish making it.
9:15 A.M. Shower with Aspeso shower gel, cleanse my skin with Reflekt skincare facial scrub, and wash my hair with R and CO Television Perfect Shampoo and Conditioner. After drying off, I moisturize my skin with Aveda body butter, my face with Skin Worship Ritual, my eyes with Skin Better Science eye cream, and my lips with Glossier Balm dot com. I recently got the My Body Vibes energy-balancing, high-frequency stickers, so I pop one of those on while I get ready to balance my energy levels.
9:30 A.M. Beg my fiancé to hang out with me while I do my makeup and sip my smoothie. He hates it because my glam room doesn't have enough comfortable chairs, but usually, I'm able to coerce him into hanging out with me for a few minutes while I get ready. He's really supportive so while I get ready, he'll steam my clothes or make sure I have snacks and water ready to go to work.
For makeup, I love to use Summer Fridays Jet Lag Mask as a primer, then Armani Skin Fabric foundation and Nars concealer with my damp Beauty Blender. I've been layering Charlotte Tilbury Hollywood Cream Contour with St. Tropez powder contour/bronzer and baking my makeup with Laura Mercier sheer loose powder. For blush and lips, I love NudeStix and for my brows, I use everything Kelley Baker Brows makes. I've had traumatizing brow experiences in the past, but Kelley Baker has literally changed the way I look at brows and she taught me how to fill them in and shape them to best suit my face. My favorite mascara is Armani and I love Becca highlighters. I always use a lip pencil to over-line my lips just a little, and I have a nude from nearly every brand.
I usually let my hair air dry, so on damp, towel-dried hair, I spray TRESemme Repair and Protect 7 Leave in, then scrunch in OUAI Air Dry Foam.
I keep my OLLY Gummy Vitamins on my vanity so I don't forget to take them. I'll munch on the OLLY Undeniable Beauty, Woman's Multi, and Flawless Complexion while I do my hair and makeup.
10 A.M. It's usually about this time I realize I'm running late, so I frantically try to throw an outfit together. Fortunately for me, most of my wardrobe matches, so I don't have to think too much about it. I have lots of black and white bodysuits and high-waisted jeans. For bodysuits, I love Good American, LPA, and Alix, and for super flattering denim, my favorites are Good American and L'agence. I love a designer sandal for LA weather to instantly make me feel a little more polished. I wear a bunch of necklaces from George the Jeweler daily for good luck and that's about it for jewelry.
10:15 A.M. My fiancé walks me to my car and helps me carry all my things. Living in LA and being freelance means I basically live out of my car, so I need to make sure I always have extra supplies, lots of water, snacks, my laptop, and book to get me through the day. I carry my water in a Gem Water glass bottle with rose quartz crystals inside and I usually take an OLLY Protein Bar for in-between clients.
On my drive to work, I usually listen to a podcast while I finish the rest of my smoothie and coffee. My favorite podcasts right now are: Get Tressed with US, How I Built This, Almost 30, and Super Soul Conversations.