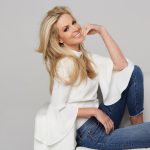 Jamie O'Banion is the CEO & Co-Founder of BeautyBio, a luxury performance-based skincare line and the brand behind the popular GloPRO microneedling tool. Before starting BeautyBio, Jamie worked in the R&D side of the industry and was motivated to start her own company after finding out that big firms only use small amounts of high-quality ingredients in their products in order to save on cost. Inspired to be a voice for the consumer, Jamie is 100% committed to complete transparency in her family-owned business. When Jamie isn't running BeautyBio, she can be found with her husband and three children, or eating her favorite treat--sugar cookies. Wondering what this beauty boss does after a long day? Keep scrolling to find out. 
6:30 P.M. I try to leave the office by 6pm, and am in full throttle mom-mode by 6:30pm. I usually arrive to a high-pitched scream from my youngest and am tackled with hugs–I know it won't last forever but it is truly the best part of my day. I juggle getting dinner on the table, the littles bathed, bedtime stories read, homework checked for my two oldest and prayers said!
8 P.M. Once I get the kids to sleep, I try to spend some quality time with my husband, Melbourne. We have a standing date night once a week. Some nights I am heading out the door to catch a redeye after the kids are asleep. Others we have an event to attend. I end up saying "no" more than "yes" these days as the company has taken off. With my travel schedule at this stage, I really try to protect my time at home with my family. Sometimes I will bring the kids with me when possible or Melbourne will meet me in Europe for the weekend.
8:30 P.M. I try to do something one-on-one with each of my kids every day. With my girls, it's usually baking, drawing, Play-Doh (or slime these days) and with my son, we will play a few rounds of Uno before he goes to sleep. Boys' love language is typically playing together. While I haven't won a round of horse in years, many great spontaneous conversations happen over cards or basketball. Lights out by 9pm.
9 P.M. Go time. This is when my engine cranks into high gear. After a full day of back-to-back meetings, this is my time to make a dent in my inbox and action any outstanding hot items. I try to shower first to avoid still being in my work clothes at 1am, when I wrap for the night.
9:30 P.M. I never go to sleep without washing my face and using my GloPRO. I am all about a quick routine when it comes to taking care of your skin. This translates into our BeautyBio Core Collection, which we have edited to be the best of the best essentials. My routine is the following:
-Cleanse with The Balance (removes all makeup and pH balances skin)
-Swipe Prep Pad on skin (kills all bacteria on skin and removes any residue while conditioning the skin with our SteriGLO™ peptide
-1 minute with GloPRO on face + 1 minute with body attachment head (or lip/eye depending on the night)
-Immediately apply The Nightly (packed with every essential anti-aging vitamin + crosslinked filling spheres to plump the skin)
-Finish with The Plump (companion product to The Nightly to magnify and seal in benefits)
1 A.M. I try to set a rule for myself of lights out by 1am. I am a night owl and am able to crank out my best work between 10pm – 1am. The house is silent and I am able to focus and knock out my action items. Outside of email, I have a JO Hot Items list that filters in external and internal action items that need prioritized attention. Part of the velocity behind our growth is our ability to quickly and thoroughly assess a need/opportunity, create a plan and swiftly act on it. By creating multiple touch points, and moving the ball forward each day, we have been able to nimbly respond to opportunity.
The last thing I do is call out my prioritized list of must-do items to follow up on/action the next day (you will sleep better if you write it down instead of depending on yourself to remember) then read scriptures and say a prayer. Filling your spiritual canteen every day is critical whether that's through meditation, a bible verse, an uplifting thought–whatever feels right to you and brings perspective. I keep a notepad and pen on my nightstand for inspiration that comes for work or personal life.