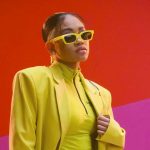 We love a girl who does it all, and MK xyz is our new favorite example. The 21-year-old musician just released her new single "Pass It" featuring G-Eazy, along with a music video that's destined for fashion mood boards around the world. She's also a student of biochemistry, a prolific painter, and a queer activist with millions of fans on YouTube, Instagram, and more. How does the rising star wind down after so much excellence? We asked her.
7 P.M. I like to cook a lot, and I do it while following along with a YouTube video. My go-to is ramen. It's one of my favorite things to eat, and I love making it. At first, it was soy ramen, but I had to change it, because I was changing the way that I eat… So now it's sesame oil, coconut aminos, brown sugar, onions, noodles—I eat it with my favorite gold dragon chopsticks.
8 P.M. I watch Pose all the time. Over and over. It's easily my favorite show on Netflix. Billy Porter is of course my favorite character—Pray Tell, that's his name on the show. He's soooo good. You've gotta get into him. He serves such amazing looks, he's such a compelling character, he's got the posture, the voice… he's flawless.
9 P.M. I've been painting a lot lately. I love acrylic paint because it's bold. It stands out. I paint queer adult art—erotic pantings that are not necessarily fetishized, but really intentional, really beautiful celebrations of really different body types, shapes, sizes… Painting is my process of meditating, too. It's been a way to recenter myself every day.
10 P.M. I'm probably still painting! When the George Floyd and Breonna Taylor cases happened, I did a George Floyd tribute painting in honor of him. I was so emotional when I did it. I was downtown in Atlanta watching the protests. I was like, "I need to share this. This is history… I have to document this and live in this emotion. I have to make sure I'm fully awake and present, not just watching this stuff happen." It's been interesting to move through my own creative projects and be at home on an average night, still existing, still trying to figure out everything going on outside in the world.
11 P.M. I just moved, and home is really like my temple. I'm trying to design it to be a really engaging place for my creative projects. In terms of music, what I've been releasing and creating has been a more introductory part of me. It's letting people know, "This is MK xyz." It's a queer space, a Black space, and an empowered woman space. It's a lot of different energies that come together and are complementary. That's the goal.
Midnight. I can talk to people about skincare all the time. I'm like, "Honey, listen!" There have been a few brands I'm slowly getting into right now because it's that time of the month for me. The Ordinary has been an essential piece of my routine, especially their hyaluronic acid and moisturizer. And also, what I really like is First Aid Beauty. They have a repair cream that sinks deep in the layers, okay? And I need the moisture. I'm feeling dry almost always.
1 A.M. If I wash my hair and do a leave-in conditioner, someone recommended Marrakesh Oil. It's so amazing. It has a nice shine. That's a new product for me, but I think it'll be a long lasting one in my routine. It works for me. Once I find something I like, I stick with it.
2 A.M. This is my bedtime! I'm not even about to sit here and tell you differently. And that's not even when I'm asleep! It's actually really difficult for me to sleep. So I'll lie in bed and watch Pose and Wentworth, and then videos on Buzzfeed and Epicurious and then skincare tutorials and sneaker reviews…
3 A.M. Hopefully I'm asleep and dreaming by now. The last dream I had was, I was in a house, like a mansion. It was literally a huge party and there were so many people I knew, and ones I didn't know… it felt kind of familiar. Since I was a kid until now, I've had déjà vu moments in my dreams. I know I've lived lives before, and these dreams are part of how I learn about that. My ancestors are like, "Yep, it's starting to click with you. You're on the path and you're trusting the process."