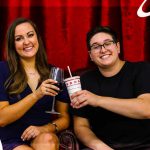 Em and Christine will ghost you… but, like, in a good way. As co-hosts of the paranormal and true crime podcast And That's Why We Drink, the friends are experts in all things haunted and hellish (think: alien abductions, murders, and conspiracy theories).
Em and Christine will ghost you… but, like, in a good way. As co-hosts of the paranormal and true crime podcast And That's Why We Drink, the friends are experts in all things haunted and hellish (think: alien abductions, murders, and conspiracy theories).
When they aren't researching new topics for their podcast, Em is likely judging reality TV show characters or organizing a vast collection of Pokémon cards, while Christine is pouring a glass of wine and concocting new ideas.
Here's how they de-stress after a long day of spooky stories.
8:00 P.M.
Em: From the time we wake up, my girlfriend Allison and I look forward to 8 P.M. It's when we snuggle up in front of the TV and eat the food we've been dreaming of all day. Our go-to home-cooked meals are cheeseburgers, jalapeño poppers, or chicken sausages… but we order Thai and subs just as often. Every now and then, we commit to eating healthier… aka we eat salads and smoothies for a day, and then remember we're only one pizza away from redeeming our "Next Order Free" coupon.
Christine: By now, I'm in leggings and my bra is off. (Who am I kidding, I probably didn't put one on to begin with.) My husband and I have either cooked dinner together or ordered takeout (most likely Indian) and I'm ready to unwind the only way I know how—with a glass of wine and a nightmare-inducing true crime series.
8:30 P.M.
Em: We're on to the dessert round of dinner. During quarantine, I have been baking more; lately, I've been making cookies or brownies. We watch TV for the next hour under a heap of blankets while I complain that the apartment is too hot and Allison complains it's too cold. On TV, we binge-watch old shows that we used to enjoy when we were younger. Currently, we're watching Below Deck, Desperate Housewives, and Degrassi. This household LOVES drama television. We love yelling at the characters for the messes they get themselves into.
Christine: I've refilled my glass and have pulled out my Switch to play some Animal Crossing. When it comes to unproductive activities, I'm the queen of multi-tasking. I'll usually jot down notes on each episode as future ATWWD topic ideas.
9:00 P.M.
Em: We're still judging the people on Desperate Housewives.
Christine: Wait, when did this bottle of wine get so empty?
9:30 P.M.
Em: This is when Allison tries to convince me she's turning in for the night. This is also when I realize I'm needy, and suggest we watch videos on TikTok "for five minutes" before she goes to bed. Every night I suggest this like it's a brand new idea, and we end up on TikTok until at least 10 P.M.
Christine: My husband often works the night shift in the ER, but when he's home, we'll watch TV together. Some of our favorites include Curb Your Enthusiasm, Community, and The Office (of course).
10:00 P.M.
Em: Once Allison is asleep, I hit my second wind. If it's a busy week, I'll do work for the podcast (take notes for an upcoming episode, research paranormal topics, finish up projects, etc.). Late at night is when I really thrive. Sometimes, I will save work until 10 P.M. just because I know my focus is better at night. When it's a more relaxed work week, this is when I start "me time." This could be a very wide range of things, from working on my family tree to collecting the last Pokémon cards I need for a deck. I will also use this time to catch up on my personal favorite shows, like Kitchen Nightmares or Beyond Scared Straight.
Christine: It's around this time that my husband starts getting ready for bed. Meanwhile, I decide it's time to dive headfirst into one hairbrained project or another. This typically involves hopping on Premiere to edit any projects Em and I have concocted. As you can probably guess, the wine has typically kicked in by now.
MIDNIGHT.
Em: I'm texting Christine for validation that my many spurts of creativity were wise to pursue. Even if she doesn't totally understand what's going on, Christine is the ultra hype-woman and enables all of my middle-of-the-night decisions. Midnight is also when I whip out my Oculus virtual reality set (another big hobby of mine). During quarantine, VR users have been hosting nightly house parties, which I have made some great friends through. I also use VR to play Beat Saber, mini golf, and watch TV. Yes, I literally sit on my real-life couch which is facing my real-life TV, and choose instead to watch shows on my [virtual reality] headset. It sounds ridiculous, but until you've watched Desperate Housewives in a custom home theater under the virtual aurora borealis, don't judge me.
Christine: At this point, everyone in my house is asleep except me. This is prime Em-and-Christine time. We're typically texting (read: gossiping) or I'm sending them screenshots from the aforementioned hairbrained project. Once I've tired of my many screens, I'll open a good book and read until I fall asleep.