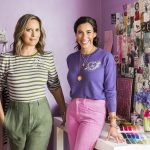 Laura Gelfland and Martha Fish are the founders of Le Lion, an heirloom-quality collection of knits featuring hand-embroidered custom embellishments. Both women had worked at legendary brands–Laura at Ralph Lauren, and Martha at Tiffany & Co–in the past, giving them the experience they needed to branch out on their own. Now, Le Lion is well known in the fashion world for its revival of traditional pieces that are meant to be passed down from generation to generation. In addition to being made with the best possible materials, the company's sweaters can be customized to include anything from zodiac constellations to hearts to pets. Want to know what these successful founders do to start a busy day? Keep scrolling. 
6 A.M.
Laura: Still sleeping hopefully!!
Martha: I wake up very early, let the dog out, try to step out into nature for a few moments and start the coffee immediately. Nature is my meditation, if I can't actually fit the real thing in. This is my alone time, and when I map out my day. I am in NYC one day a week, so I mentally go through the logistics of that or if I'm in Connecticut, what needs to happen during the day.
6:30 A.M.
Laura: STILL sleeping hopefully!
Martha: I start my day with coffee and checking emails, especially from our factory in Italy. The timing is right and it starts my day off with focus. I frequently start texting with Laura (when she gets up!!) and I quickly read the paper and check Instagram, ours especially @lelioncollection.
6:45 A.M.
Laura:  I always have my alarm set for 7 A.M., but wake up before it almost every morning. I am the kind of person that jumps RIGHT out of bed and gets going. I barely ever remember pressing snooze in my life… early morning is my favorite time of day – somehow no matter what is ahead of me there is a feeling of optimism. I am most productive in the early hours and try to make the most of it!
Martha:  Time to get Charlie up and ready for school. I make breakfast for him and for our dog Jack and start the mad dash towards the car pool and school drop. My uniform, depending on the season, is a Le Lion Oversized Funnelneck or a Petite Crew. Both are functional, easy with a bit of sparkle, perfect!  I literally wear them everyday, at this time of the day, with jeans or leggings.
7 A.M.
Laura:  I brush my teeth and wash my face (currently using Ursa Major fantastic face wash). Wipe my face with a cotton round drenched in Biologique Recherche p50 and, depending on the time of year, either apply Vintner's Daughter or just use my Laura Mercier tinted moisturizer with SPF. I throw on sweatpants – almost always by The Great, and an old t-shirt. During the colder months I'll layer on our cozy Oversized Funnelneck.
7:15 A.M.
Laura:  I pull my still-snoozing king Charles Spaniel, Leo, off my bed and take him out for a walk around the West Village. We always walk over to 11th Street Café where I can tie him outside while I get a large iced latte (no matter what time of year!).
7:45 A.M.
Laura: By 7:45am I am usually back with Leo – I feed him his breakfast, I turn on The Today Show and get straight to work, often from my couch!  I rarely eat breakfast, which I know is terrible!!! If I have Health Warrior Protein Bars in my cabinet I'll grab one of those but since I travel so much I am really bad at grocery shopping. Every once in a while I'll get a croissant from 11th Street Café with my coffee – they are THE BEST. I usually spend the next few minutes taking a look at emails and my schedule for the day.
8 A.M.
Laura: Martha and I usually hop on the phone or Facetime at around 8 A.M. to discuss the 8-million different things we have going on at once!  We are lean and mean and try to touch base at the beginning of each day since there is so much to juggle between the two of us.
Martha: School drop-off is completed, so I make my way home or down to NYC. If on my way to NYC, it's calls to Laura and listening to podcasts, I love the new GOOP podcast series. If I'm on my way back to the house, I stop at Arethusa a Mano for the absolute best coffee in town. Very occasionally I'll get a salt bagel, toasted with cream cheese (they are made fresh each day and are as good as any NY bagel out there!!) but I typically don't eat until midday.
8:30 A.M.
Laura: Usually I spend some time responding to emails, checking our Instagram and our website orders. If we had an event in the days before I often spend time going through orders to prepare them for the embroiderer. Our sweaters are made in Italy but housed in NYC where our embroiderers are so it allows us to bring the sweaters to be customized quite quickly!
Martha: Back to work! If I'm in CT, it's FaceTime-ing with Laura and mapping out the day and then getting to it. We are a small startup with only 2 of us, so each day is different and is everything from working on new collections, to communicating with Italy, to paying the bills!
9 A.M.
Laura: I am generally getting myself together! I usually throw on one of my favorite Le Lion sweaters with my monogram and pair it with Citizen of Humanity jeans and Rochas flats. Then it is either off to meetings or to our embroiderer to check on orders and drop off more!
Martha: If home, I quickly shower and get myself ready for the day. I don't typically wear makeup on an average day, so skincare is extra important and a big focus for me.  I love Joanna Vargas products, (I'm also totally devoted to her facials) and Vintner's Daughter is my absolute favorite. Then I'm dressed for the day, in Le Lion sweaters and jeans, always.