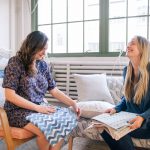 Grace and Rebecca Atwood are very impressive sisters. Grace runs the women's lifestyle site The Stripe–a destination for fashion, beauty, travel, and wellness–as well as a popular Instagram page. She also just launched a podcast about books and self-care this past spring. Talk about multi-tasking. Rebecca is the founder and creative director of Rebecca Atwood Designs, a brand creating luxurious patterned fabrics, wallpapers, bedding and pillows. This year, her namesake business launched its first bedding collection, as well as a shop in NYC's Nolita neighborhood. Both of these savvy businesswomen live in Brooklyn, have made their passions into careers, and share their lives with thousands of followers from around the globe. Below, the successful sisters share a peek into their nightly routines. 
6:30 P.M.
Rebecca: These days I'm usually home by around 6pm, and then eating dinner around 6:30pm—it's pretty early by NYC standards, but I go to bed pretty early. I often am already in my pajamas by this time as I love getting in them right when I get home. It's a bit of a family joke how much I love to sleep.
Grace: This is usually when I try to wind down my work day, but every day varies… I have a lot of events in the evenings for my blog and a pretty active social life with seeing friends and networking! If I didn't make it to yoga during the day, I'll take an evening class at my favorite yoga studio.
 7 P.M.
Rebecca: I'm usually curled up on the sofa with my two cats Chili and Cotton. In the evenings, if my husband isn't home yet, I often make time to paint in my sketchbook, watch a favorite TV show, and just unwind. Sometimes I'll be catching up on emails or making a bit of time to just think about where things are headed with the business. I like to be home and relaxing around the house. If I'm meeting up with friends I'm usually doing that around now and having dinner somewhere in our neighborhood or having them over for dinner. One of my favorite neighborhood spots is al di la.
Grace: I'm finishing up work or heading to an event! I try to eat dinner right around now. I have been experimenting with intermittent fasting and try to eat all of my food between 11am and 8pm.
8 P.M.
Rebecca: Not too much has changed since earlier in the evening. If I have time I'll take a bath! I'm a big fan of this—just like Grace. I love The Seaweed Bath Co.'s lavender sea salt bath—or I'll just use Epsom salts and some essential oils as well.
Grace: I'm probably out, but if I am not I am definitely in the tub with a good book. I probably take a bath 2-3x a week – it's my favorite way to (passively) sweat and unwind. My favorite bath is Kaia naturals' turmeric soak but I don't discriminate. Plain old Epsom salts with a few drops of lavender or eucalyptus essential oil works too!
9 P.M. 
Rebecca: I start getting ready for bed around 9pm. If I hadn't already changed into my pajamas I'll get in them now. I brush my teeth (I always use Tom's of Maine toothpaste) and wash my face. My skincare routine includes taking off any makeup with Tata Harper's Nourishing Oil cleanser, and I usually follow it with her Regenerating Cleanser, which is a light exfoliating cleanser. Then I apply Vintner's Daughter serum, and, depending on the time of year and how dry my skin is, Tata Harper's Rebuilding moisturizer. I try to use all-natural beauty products, and Grace introduced me to all of these brands. I love Tata Harper because they have a farm where they grow the majority of the ingredients used in the products and really own that whole production process.  As someone who makes things, I love knowing more about the process behind the brands I buy.
Grace: In a perfect world, I am always home by 9pm. This does not always happen, but if it does, I spend about an hour just winding down. I check in on email, make a mug of tea (or pour a glass of wine if it's been that sort of day), maybe watch a show. If I'm sore I'll foam roll or roll out the knots in my back with my yoga balls. Whatever I'm doing, I try to keep it low stress and easy.
9:30 P.M. 
Rebecca: I'm usually getting in bed.  First I apply a thick lotion or balm to my feet and hands—right now I'm using Frank's body balm which is really nourishing, although a little sticky. Sometimes I'll also spray a lavender-scented linen freshener on my pillows if I remember.
I usually do a bit of reading before falling asleep and switch up between reading business-related books and fiction. On the business side, I just finished re-reading The One Thing, which is a great book if you're working on focusing. I also recently finished Alice Hoffman's prequel to Practical Magic, The Rules of Magic, which was so good!
Grace: Time to get ready for bed! And so begins the skincare journey. I am a little high maintenance with my evening routine, but as I've gotten older I've realized the importance of a good skincare regimen. I love a good double cleanse. Right now I'm really into Eve Lom's cleansing balm. This is great for taking all of your makeup off and there's a little bit of a ritual around applying it, which I love. You apply it to dry skin, massage all over, and then use a hot, damp muslin cloth to take it all off. It leaves skin so soft! After that I will use a lighter gel cleanser like Tata Harper's purifying cleanser. I'll pat my skin dry and then apply my SK-II facial treatment essence. I pat this in with my fingers until it's dry. And then I moisturize, moisturize, moisturize! Right now I'm very into Dr. Augustinus Bader's The Rich Cream. You don't need to apply serum if you use this, which is nice since the rest of my routine is a bit intensive. Lastly, I have been applying cactus oil to my skin every night. I went to Morocco and there are all these amazing pharmacies that sell oils and potions and cream. All of the women there hailed this as natural botox so I bought some and put it in a rollerball. Can't hurt, right?
10 P.M.
Rebecca: I'm almost always asleep by 10pm! I really believe a good night's sleep makes everything else a little bit easier. It isn't a cure-all but it makes a big difference. Our bedroom is cozy, and I try to create an environment that draws on nature. I read that even looking at photos of nature can help reduce stress so I try to incorporate patterns from my collection that play off of this. The bed faces a wall of curtains (concealing a closet) in our Petals pattern that looks like falling petals. It's soothing to look at, almost like lying down and looking up at a canopy of leaves. On the bed we're always mixing up the bedding, but all of the patterns were inspired by nature and places that make me feel calm. Right now we have on our new crescent moon bedding. I love to use pattern as a way of creating a very personalized environment.
Grace: I try to be in bed at 10pm every night and asleep by 11pm. In a perfect world, I get into bed at 10pm, having done all of my skincare and brushed my teeth. I like to read for a solid 45-50 minutes and then meditate for 10-15 minutes using the Headspace app. I am a really light sleeper and have a hard time falling asleep, so my bedtime routine is important to me in terms of getting sleepy. I recently discovered Frankincense essential oil which is amazing for sleep. Aromatherapy Associates has a nice one… I'll apply a few drops to my pillow and drift away.