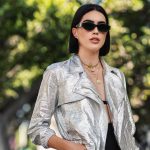 Brittany Xavier is the powerhouse behind an incredibly popular style blog. Having started her platform in 2013, it has now expanded into a YouTube channel and Instagram that boasts a million followers. Talk about a large audience. Known for her trendy style and refreshing transparency, Brittany has turned her passion for beauty, travel, and fashion into a successful business she and her husband run full-time. Below, this Old Town Pasadena-based blogger shares the routine that gets her ready for a productive day.
7 A.M. My alarm goes off, definitely not a morning person so that's always a struggle! I also go to bed around 1am each night because I'm the most productive on my computer late at night–I've found it works for me! Usually I'll hit the 15 mins snooze button and get up shortly after.
7:15 A.M. I brush my teeth and wash my face, using the Ren Skincare Rosa Centifolia Cleansing Balm. After, I follow with the Vintner's Daughter Serum and Rodan and Fields REDEFINE™ Triple Defense Treatment SPF 30. I like to prep my skin and keep it moisturized before I do other morning tasks.
7:30 A.M. Next I drink 16 oz of water, it's always so important to me to stay hydrated right in the morning- sometimes I squeeze half a lemon in it as well. I make two shots of espresso- I can't live without the Breville espresso maker! I eat low sugar and healthy fats throughout the day so adding a teaspoon of coconut oil along with the almond milk helps me have better energy.
7:45 A.M. Help Jadyn make her lunch and snack for school–we like to prep the meals the night before so it's a bit quicker in the morning. She usually likes me to help with her hair as well–I'm sure this is the last year of this (she just started 6th grade!). After, drop her off. If I'm able to work out right after drop-off I do, but typically I've been working out at night because it allows me to have more work hours while she's in school.
8:15 A.M. After getting back home, I like to straighten up a bit and light my candles! I always have 4-5 burning throughout the day and it makes the house smell so nice. My favorites are Jo Malone Sweet Almond and Macaroon and Byredo Bibliotheque. Next I pull up my laptop and start sifting through e-mails until I have an updated to-do list with urgent items at the top. I also always unsubscribe from e-mails if I was put on a list automatically that's not relevant and that's really helped keep my inbox to only the important ones and it's not as overwhelming each morning! I also eat half an avocado with black pepper. 
8:30 A.M. Next I like to get ready a bit more for my day, I wear foundation and under eye concealer almost every day- I love how it makes me feel more pulled together, also can't live without Becca cosmetics highlighter in Champagne Pop. Even when I'm working from home, I like to be ready in case something comes up- there's been many times where I had to run out or have an impromptu Google hangout conference call and working in my Pjs and not getting ready would make me feel so lazy! I can't do it.
9 A.M. Each day is different but for the most part I go over the content calendar and to-do list for the day making sure I'm caught up on any deadlines and planning for upcoming ones. I either head out the door to shoot upcoming blog/instagram/YouTube content or head to meetings. I post on my blog Monday, Wednesday and Fridays and YouTube every Thursday so we like to be out a month with content planned and shot in advance. Instagram is every day but most of my photos are shot in advance to align with other social or if I want to show what I'm doing that day I'll take it in the moment.
Living in Pasadena, I plan one to two days a week around meetings so I'm not driving to West Hollywood multiple times during the week for only one or two things- I've been really good about my efforts to be more efficient.