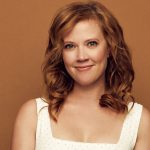 Patti Murin plays Princess Anna in Broadway's Frozen, which she describes as her "dream job." Before landing one of the leading parts in a mega-hit musical, Patti originated the title role in Lysistrata Jones, a critically-acclaimed production. You might even recognize her off of the Broadway stage, as Patti had a recurring role as Dr. Nina Shore on NBC's Chicago Med–a show her husband is still a regular on. When Patti isn't playing a beloved character and singing songs we still can't get out of our heads, you can find her spending time with her two dogs, Petey and Milo, reading, or watching anything Bachelor-related on TV. Below, this Broadway star tells us everything she does to wrap up after a long day on the stage. 
5:30 P.M. It's Tuesday evening, which means we have a 7 P.M. show. I arrive at the theatre an hour and a half before the show starts to give myself time to settle in. During this half hour, I take time to answer fan mail and say hello to whoever walks in the door. My dressing room is right off the stage door, so I see almost every single person who walks in our building to work on the show.
6 P.M. It takes me about 15 minutes to do my makeup, if I'm focused, and this is when I normally do it. I try to use as many cruelty-free brands as possible, and the makeup designer of the show has been amazing about helping with that. Among other brands, I use Urban Decay foundation, Kat Von D liquid eyeliner, Hourglass blush, Anastasia eyebrow products, and more. I always listen to music while I get ready so I can start to warm up my vocal cords slowly. I use the same playlist every day, which mainly consists of Beyoncé, Pink, Kelly Clarkson, and Sara Bareilles. Right now the songs I really hope to hear are "I Am Here" by Pink, "If I Dare" by Sara Bareilles, and "Stardust" by MIKA and Karen Mok. This is also the time that my FANTASTIC dresser, Katie Chick, makes sure I'm ready to go with Yogi tea, water, and whatever else I may be in need of. She's just the best.
6:30 P.M. Warm-up time! It takes me about 15-20 minutes. I do some physical breathing exercises and some vocal exercises, all from the incomparable Liz Caplan, Broadway's most popular vocal coach! She's amazing. She keeps me healthy, and also sane.
6:45 P.M. At 15 minutes to curtain, our Hair Supervisor, Tyrel Martori, comes in to put my first (of many) Anna wigs on. We always catch a case of the giggles for one reason or another. This is also when I spray my face with Urban Decay makeup setting spray, because we both love the smell of it. It's very refreshing! 
7 P.M. Places! Since Caissie Levy, who plays Elsa, and I are not in the first 12 minutes of the show, I go up to her dressing room so we can catch up and say hello before the show starts. We also have a super weird dance party in all of our undergarments, so usually, there's a lot of laughter and very high-pitched singing.
7:10 P.M. I go back to my room where I get dressed for my first scene in the show! Costume, hair, and makeup all get a look at me before I head onstage for Act One!
8 P.M. Done with the act! I'm not in the last two scenes of Act One, so I head back to my dressing room to cool off and have what I call Intermission Snack. Because my track is so athletic and burns so much energy, I like to make sure that I have enough left in the tank for Act Two. Sometimes it's a sensible snack like pita chips and hummus, and sometimes it's chicken wings and chocolate cheesecake. Don't judge me.
8:20 P.M. Time for Act Two!
9:30 P.M. The show has ended, and I've changed out of my Anna costume and wig to my street clothes. I take my makeup off with Neutrogena face wipes and head out to the stage door with a silver Sharpie so I can sign everyone's programs. I don't always do the stage door, because sometimes I need to run somewhere immediately, or sometimes I'm just too exhausted. But when I do, I love interacting with the people who just saw the show and are excited enough to stay after to meet some of us! Then I get in the car and head home to my apartment.
10 P.M. Dog walk time! Petey and Milo get a spin around the block, and then immediately come inside and collapse. I grab whatever book I'm reading at the time and sit in the reading nook in my bedroom, designed by the crazy talented Mike Harrison (who also happened to design our theatre dressing rooms!). Petey always hops up onto my lap, while Milo sits in the dog bed right next to the chair. 
12 A.M. Tomorrow is Wednesday, which means there are two shows, so it's bedtime. I take off the remaining makeup and wash my face using Rodan and Fields products, take my contacts out, brush my teeth and get snuggly with the pups in bed. Yes, they're allowed in bed with me! I use a sound machine to help me fall asleep, though I'm pretty good at doing that on my own. Goodnight!