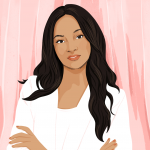 You have big career goals, and whether they involve climbing the corporate ladder, making a drastic career change, or starting your own business, there are certain skills that can help you get there faster. LinkedIn Learning provides easy-to-follow video courses that teach you the skills you need to reach your professional goals and stand out to potential employers, sans having to do hours of research (hello, Google rabbit hole). Today, we're speaking to Lyndsey Scott, a trailblazer who is both a celebrated model and app developer. As part of her successful modeling career, Lyndsey has worked with major brands like Victoria's Secret, Gucci, Louis Vuitton, and Prada.  After college, before being discovered, Lyndsey began working in computer science, which eventually led to a successful mobile development path. Below, this multi-faceted model and businesswoman shares why everyone can benefit from having tech skills, and how she balances her different careers. P.S.- Learn the basics of web programming in under an hour here.
LinkedIn Learning is a platform where you can learn valuable skills to get ahead professionally, like web programming. Why do you think this is an important skill to learn, especially as a woman? How have you used this skill to grow your business and career?
Nowadays you'd be hard pressed to find a business that doesn't rely on technology and the code at its core. Coding's the new literacy and it's only going to become more important with time. Being able to develop and update your own website can be a huge asset when building any type of business. Knowing even one coding language gives you a huge jump start when working with others. As a mobile developer, just having a grasp of coding logic gives you the power to do so much more professionally.
Do you think learning coding and programming basics is helpful for those who aren't on the path to becoming a programmer, but would instead like to work at or run a company dealing with websites, apps, or advertising? 
Understanding the inner workings of the technology others create for your business can be a huge advantage. Being able to better communicate with developers and monitor their progress can save you and your company a lot of time and money. As a developer, I'm always impressed and grateful for clients who know what they're talking about.
You are an incredibly successful model, previously working with brands including Calvin Klein, Prada, Gucci, Victoria's Secret, and more. Why did you decide to start building apps, rather than solely focusing on modeling and acting?
When I moved out to LA four years ago to focus more on acting, I needed a flexible way to make money while building that part of my career. I majored in Theater and Computer Science at Amherst College and used that programming knowledge to start making iOS apps on my own seven years ago. But over the past four years, I've been able to monetize my coding skills by consistently finding remote programming work. At first I would work up to 40 hours a week at home using whatever free time I had between acting classes and auditions. But by writing online tutorials, answering questions on programming forums and getting great job referrals from my clients, I've been able to double my rate and work half as much so I can focus more time on my acting career. A good freelance mobile developer in the US can earn between $100 and $250 dollars per hour, and I feel very fortunate that I'm able to earn a living without sacrificing any of my dreams.
Along with taking online classes via LinkedIn Learning, what are other ways our readers can improve their coding capabilities?
Besides online courses, I'd recommend learning how to code by building something fun that you really want to make and use. Learning will feel less like a chore when you have a goal that you're excited about. Plus, that feeling of accomplishment you'll get by understanding something you never thought you could will make everything worth it.
Are there any skills or tips you learned during your time modeling that you use today as a programmer? What is your advice for any women who would also like to make a drastic career change?
Programming is pointless if you don't have any other interests to apply it to, so anything I've done in my life, including modeling, can help with the programming work I do. Clients especially enjoy when I have some understanding of an app beyond the technical level and I prefer to make apps that capture my interest. So the more interests I have the better!
To any women looking to make a career change when the results are uncertain, I suggest figuring out a game plan that will make that change feasible when it comes to both time and finances. It might take a lot of hard work and energy, but if you focus on your goals, any sacrifices you make will feel worth it.
Last year you gained a lot of media coverage for speaking out against people who didn't take you seriously as a coder because of your modeling career. How have you taken steps to break the ridiculous stereotype that you can't have both beauty and brains?
On one hand, I don't care if I'm underestimated by strangers who have no bearing on my life, but I know what it feels like to be underestimated in the workplace (even by people who know nothing about my modeling career) and I know that many women in tech face this every day. That's why I spoke out this time — so that these guys who doubted that I could be a real coder wouldn't be so quick to judge other non-traditional coders they encounter.

Ready to learn the basics of web programming? Watch this course for free and learn this essential skill in under an hour.