Feb. 11 2019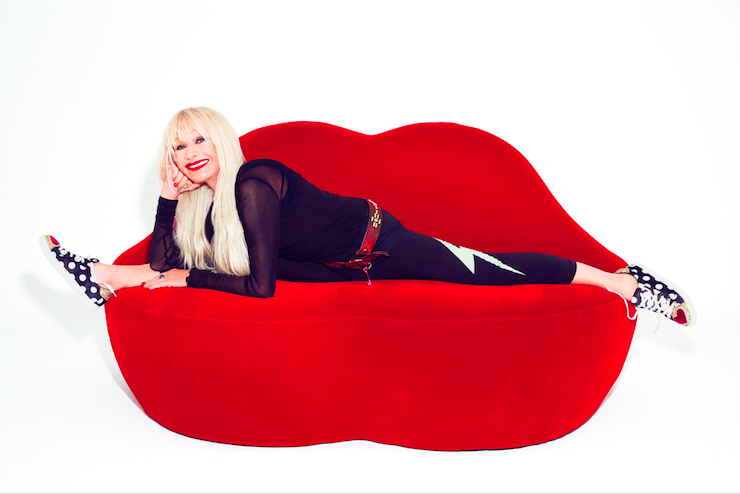 Betsey Johnson is the style icon that needs no introduction. Known for her whimsical designs, Betsey is a trailblazer whose line shifted the fashion landscape, and boasted sixty-five stores worldwide. For her remarkable contribution to style, this designer has been inducted into the Fashion Walk of Fame, and was awarded the National Arts Club Medal of Honor for Lifetime Achievement in Fashion. Continuously proving that she is constantly evolving, Betsey and her daughter had a reality show on the Style Network, and she also competed on Dancing with the Stars. Dying to know how this fashion legend starts her day? She gives us the scoop below.
8:30 A.M: Lately, I have been crawling out of bed at 8:30 A.M. which is quite late for me because I am usually a 7 A.M. girl. I enjoy spending time in my backyard so I slowly wake up, drift into the kitchen, have my one cup of black coffee.
8:45 A.M: Once I'm in the kitchen I turn on my radio, and I keep Turner Classic Movies rolling on the television so that I can catch my favorite movies if they are on. For the radio station, there is a Malibu station that plays classic rock all day long, The Beatles, Tom Petty, Bob Dylan–since I'm awake, the house has to wake up too!
9 A.M: I often take my coffee to my "Birds of Paradise Garden" in the backyard and sit among my flowers. I love eating fruit for breakfast, and grapes have been my fruit of choice lately. I usually eat a small breakfast because what I'm really looking forward to is my main meal. Every day I try to eat at one of my favorite restaurants out around Malibu, and the portions are always so big so I usually save half for dinner.
9:30 A.M: Once I've eaten l call my assistant and we will go over what I am up to for the rest of the day. My schedule usually changes from day to day so luckily my assistant reminds me of all of the important things going on in my life at any given time.
10 A.M: I do a very simple beauty routine, I always wash my face, but I'm not particular as to what brand I use – as long as "tightening," "firming," or "anti aging" is in the title! For makeup, all I wear is red lipstick, my skin has improved so much by limiting what makeup I put on it.
10:30 A.M: I believe in a slow wonderful morning–nice, calm and cool. After working so hard for so long, I've finally decided to say, for these three hours in the morning it's my time, mornings will be for me! It has really changed my outlook on life, and I recommend it to everyone.