Feb. 22 2019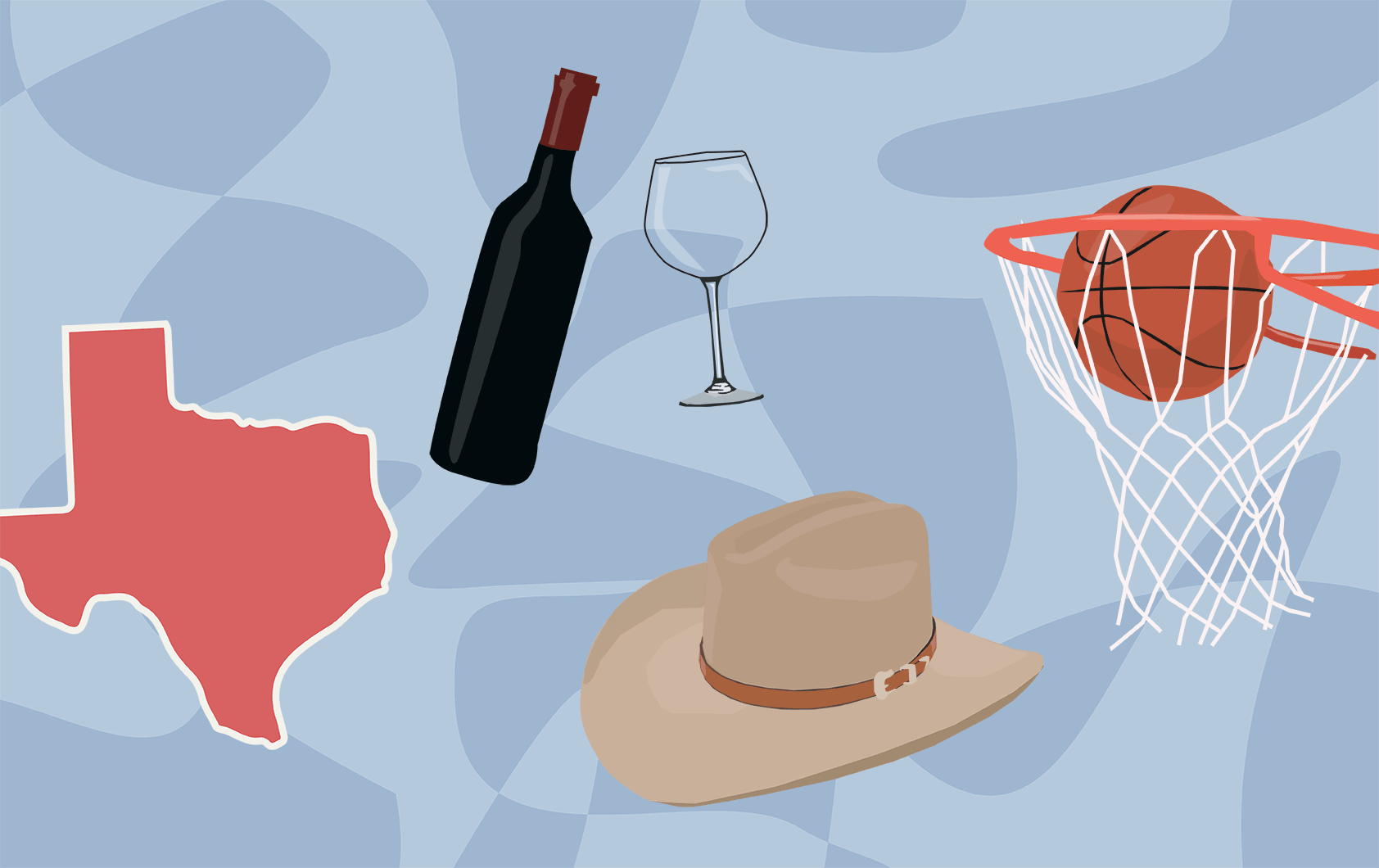 On a rarely warm winter day in New York City, I walk up the cobblestone-lined streets of the Meatpacking district (regretting wearing heels), heading toward a place I usually only visit when it's too dark outside to appreciate the architecture. At a little past noon, the neighborhood looks completely different than it does on a night out–so different, in fact, that I pass my destination and realize halfway down the block that the entrance is nearly invisible without the bouncers and velvet ropes I'm used to seeing on a lively weekend night.
After riding the elevator up to the fourth floor of Catch, the doors open and I'm greeted by Patrick Fertitta, who is standing just behind the hostess stand. As I walk over to him to shake his hand, I watch from the corner of my eye as several staff members scramble with menus and big smiles, then accompany us to our table. It's obvious that everyone is on their best behavior, and for good reason–Patrick's family owns the celebrity hotspot. That, and over 600 restaurants and hotels you most likely frequent, including Dos Caminos, Joe's Crab Shack, Morton's, Mastro's, and The Golden Nugget.
I was interested in interviewing Patrick for this series because I'm a big fan of his father Tilman Fertitta's CNBC show Billion Dollar Buyer–and I was curious about the future of the entertainment empire, called Landry's, that he's built. I wondered who would take the reins of this family business one day. As it turns out, that duty will be passed along to his four children– and, so far, the most involved family member seems to be the 24-year-old sitting across from me.
Admittedly, I went into the interview with an idea of who I thought I was going to meet. And yes, Gossip Girl's Chuck Bass definitely came to mind. Patrick's Instagram profile photo features him and Steve Aoki meditating in front of his helicopter (casual), he jet-sets to almost all of the Houston Rockets' away games (BTW, the Fertitta's also own a basketball team), and he regularly sits court-side, next to the likes of Kylie Jenner and Travis Scott. There's no way he actually works, right? Wrong.
I was pleasantly surprised throughout our conversation–and the couple of other times we chatted afterwards–at how driven, knowledgable, and dedicated Patrick is about the company's empire. It's an entrepreneurial spirit that is rare to see in someone who has so much success to fall back on. He tells me his day-to-day duties include "anything from looking at restaurant locations and negotiating leases to negotiating contracts with some of our employees or meeting with our operations teams at different restaurants."
They also include high-level reports and meetings that allow him to get a sense of what's going on in the conglomerate's dozens of companies. "I start my day by reading and responding to emails before reviewing the many flash reports that I receive that reflect the prior day's business performance," he explains. "These reports allow me to know the important metrics of any of our restaurants, casinos and any other outlets across the country. These numbers act like a report card for the entire company on a day-to-day basis. In a company with over 500 outlets and 60,000 employees, something is aways happening and there are always decisions to be made. Anything from deciding to open a private bar in our newest hotel to discussing off-season moves for the Houston Rockets may come up in the same meeting."
His passion for the customer experience is also clear as he explains to me the fresh perspective he aims to bring to the table. "I'm always thinking about what concepts we should be in, what we should get out of, what the trends are, and what should be on our menus. Should we switch to communal tables? Should the music change?"
As one could predict, the privileges and power of being the boss' son could cause animosity among employees and peers–but it's a prejudice that he embraces. "I feel like I have to prove myself every day," he tells me. "I think people naturally have stereotypes or want to believe something about someone who has been given an opportunity, and that's fine. I welcome that, I know I have to earn their respect. That's my job, it's my job to prove myself and prove that I have value and that I belong at the table."
Patrick hopes that he and his siblings can help modernize the business over the next decade, and he tells me that investing in up-and-coming startups excites him. Traveling with the Houston Rockets to away games also allows him to meet with entrepreneurs and businesses across the country that he could potentially work with, which is clearly a passion he inherited from his father, whose show revolves around giving small businesses the chance to become suppliers to his billion-dollar company.
For someone so young, Patrick admits that he's always looking ahead when it comes to Landry's, and I get the sense that he feels a tremendous responsibility to help ensure the firm continues to be successful for generations to come. It's a heavy weight to carry–but one he doesn't have to lug alone. Along with his siblings Michael, Blayne, and Blake, Patrick hopes to build an all-star team of up-and-coming talent at Landry's. "Internally, it would be great to find or organically develop the next generation of leaders at the company," he says. "Many of the leaders who made the company what it is today are still the leaders now. In any business, especially the hospitality business, you are only as good as your people."
He stresses that although musings of starting his own business linger in the back of his mind, the thought of letting someone outside of his family run the company deter him from pursuing his own venture. "No one will ever care about the future and success of this company more than myself and my siblings," he explains. "The one thing that's made this company so successful is that it's a family business–and we look for long-term stability and long-term success. It's easy to grab the low-hanging fruit, but that can also get you into trouble."
There's clearly a sense of security that comes with having your career path set out for you–but, on the other hand, being the heir of an empire can also mean that there's little room for your own dreams and goals. I wondered, if he didn't go into the family business, what his aspirations would be. "I would say a venture capitalist," he answers. "I really enjoy understanding small businesses and how they grow, and what makes them work. Being able to invest and understand other businesses, as well as apply what I know about business across different industries, would be very interesting."
Three hours, two orders of truffle fries, and a pint of lobster mac and cheese later, I feel like I have a PhD in entertainment and hospitality–and feel shamefully guilty for underestimating Patrick. Because not only does his work schedule rival that of an investment banker, he is also refreshingly aware of his incredibly lucky life, and plans on maintaining the success his father built for generations of Fertittas to come. So, the next time you see him sitting next to a Kardashian at Madison Square Garden or helicoptering to a luxurious destination with a world-renowned DJ–know that he probably put in a twelve hour workday–filled with dozens of fires to put out–in that same day. Because there is truly no one who embodies "work hard, play hard" more than Patrick Fertitta.