Mar. 29 2019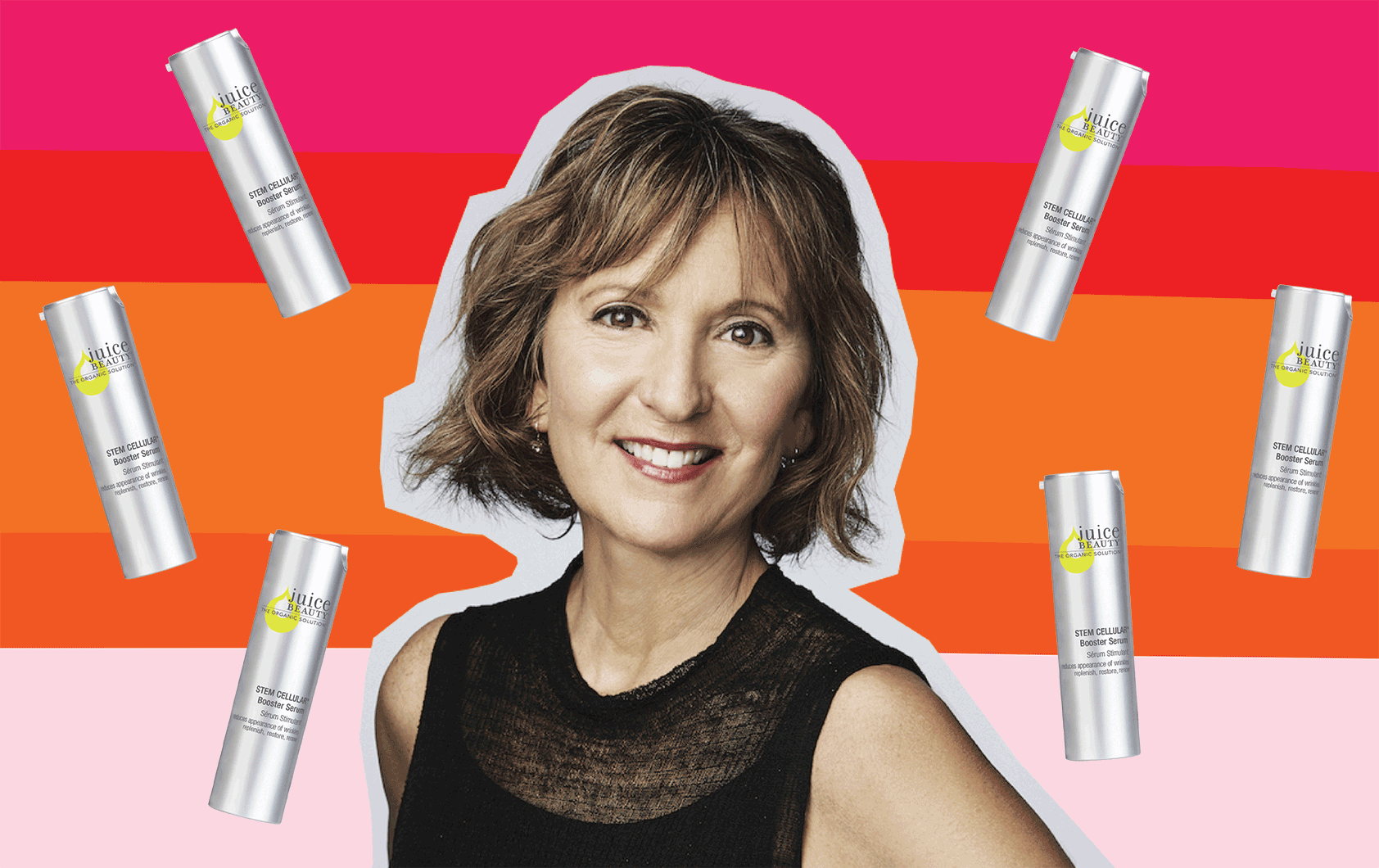 Continuing our Ulta Beauty x Newsette programming, we are proud to present the early and productive morning routine of Karen Behnke, founder of Juice Beauty. The natural and clean-based beauty brand was inspired by Karen's passion for organic living, and she worked with chemists, physicians, and microbiologists to perfect the line's formulas over five years. Before starting Juice Beauty, Karen impressively founded Get Fit Aerobics at just 22, and then created a wellness company called Execu-Fit, which delivered fitness programs to corporations. Now that's what we call a serial entrepreneur. In 2016, clean living advocate and actress Gwyneth Paltrow teamed up with Karen for a collection called "Goop by Juice Beauty," which got even more consumers hooked on the award-winning line. But before we dive into her morning routine, we wanted to know about Karen's favorite product, and why she loves it.
Why Karen loves the Juice Beauty Stem Cellular Anti-Wrinkle Booster Serum:
It's virtually impossible to choose among my top products, but this serum is so universal. It can be used immediately following cleansing and before moisturizing as a potent serum boost or it can also be used as a primer prior to our Phyto-Pigments Foundation. It's such a beautiful gel serum that contains resveratrol-rich grape, Vitamin C, B, E, and fruit stem cells. Hydrating, powerful and multi-tasking! Buy it here.
6:30 A.M. I either run, bike or swim laps for an hour almost every morning except on "Juice Beauty Yoga Thursdays." On Thursdays, I sleep in until 7 A.M. and do yoga with our employees in the loft of our sustainable headquarters. I run and bike in the hills of Marin that are right off of our property and usually with my preferred workout partner—my husband. We did triathlons together for years, and we love our (rotating days) run, bike, and swim routine. Plus, we're lucky to have a solar-powered, salt water lap pool at home!
Since I get kind of energized at night, I must admit I'm a bit hooked on Jimmy Kimmel, and I probably only get 6-7 hours/sleep a night. I'd love to get 8 hours at some point on a regular basis—despite all my wellness habits, I have terrible sleep habits! I know this sounds super disciplined, which I suppose I am, given that I've been a serial wellness entrepreneur, but I get a lot from sleeping more—unlimited energy and a clear brain!
7:30 A.M. After showering using our Stem Cellular Exfoliating Peel Spray (magic in a bottle!) followed by our Green Apple Brightening Cleanser, I moisturize my body with our Green Apple Firming Body Moisturizer, as the luxurious aroma and rich organic sheas and jobobas wake me up. Slipping my Uggs on, I head downstairs for a quick "Prebiotix Smoothie" consisting of organic Greek yogurt, berries, a banana and a packet of Juice Beauty's Prebiotix Antioxidant Boost powder supplement. This smoothie is followed by organic gluten-free granola and nuts. I wish I could say that I sit on our deck with beautiful San Francisco Bay views to eat, but generally I hack through my early morning emails that came in from another time zone like from our International Director who resides in the Netherlands. This practice actually de-stresses me a bit because by the time I get to the office, my email's inbox isn't exploding!
Now in my 6th decade, it does take me a few minutes longer to get my face ready than my younger years. Since I've already cleansed and exfoliated, I apply our Stem Cellular Booster Serum (50% off today, March 29, only), Anti-Wrinkle Moisturizer and CC Cream SPF 30 in Desert Glow. I have never been a foundation girl in my entire life until we made our Phyto-Pigments Serum Foundation, which applies perfectly over our primer or a moisturizer. Then a bit of our Phyto-Pigments Perfecting concealer in Cream, Phyto-Pigments Precision Eyeliner in Black, Phyto-Pigments Brow Envy Gel in medium and Phyto-Pigments Ultra-Natural Mascara. This literally all takes me maybe 10 minutes.
8:45 A.M. After feeding our Labradoodle and our daughter's fish that she left for us when she started at Duke University's school of engineering, I drive to the office in my solar-powered Tesla, listening to the always-crazy Alice Radio talk show.
9 A.M. I often talk to one of my long-term girl bffs or my daughter on the way to work, and then when I pull into the parking lot, I often get the feeling of "let the games begin!" Every day I try to think about how I can move the company forward, but not until I've made my first cup of The Tao of Tea Organic English Breakfast tea with a splash of low-fat organic milk.
Usually I cruise through the office and have 5-minute check-ins with our Head of Operations, Sales, Finance, Product Development, and Marketing and then settle in to my first business meeting. As I mostly focus on creative, PR and product development—one of these meetings would most likely be first. Tackling the most pressing issue of working with highly unusual organic ingredients like pterostilbenes from sunflowers might be a topic.
10 A.M. At this point, I'm on at least my second cup of English Breakfast tea! Since I live the California wellness life, I'm often asked if I actually drink caffeinated tea and the answer is YES as what exactly would be the point of drinking decaf?! I'm guessing I have 3-4 cups of tea every morning, but I do try to stop the caffeine around lunchtime. Watching my phone for texts from my kids, I cruise through a bit of social media to see what's happening in the beauty world…and then more meetings.